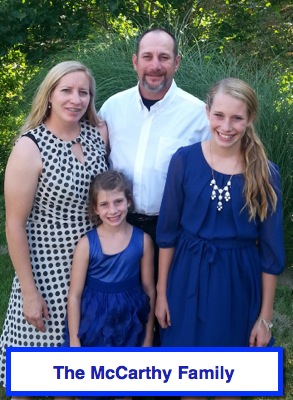 After 19 years of running Cabin Creekwood, Stan & Deb Horst are handing over the day-to-day operations of the business to the husband and wife team of Peter & Julia McCarthy.
Peter and Julia are long-time friends of our family. In fact, Deb and Julia attended church together as teenagers, and cleaning at Cabin Creekwood was Julia's first job, while the business was still owned and operated by Stan & Mary Jane Shirk.
Prior to taking over at Cabin Creekwood, Peter worked most of his life in the construction industry as a lead carpenter, while Julia operated her own cleaning business. Together, they bring a wealth of experience, plus fresh insights, into how Cabin Creekwood can serve it's guests even better. Julia will make sure the cabins are clean and presentable for guests, and Peter will keep them in tiptop maintenance shape. Together, they will handle the telephone and reservations, as well as greeting and interacting with guests.
Peter and Julia have two delightful daughters who look forward to helping guests in any way they can.
Peter is a Civil War re-enactor, who has traveled all over the eastern states to create and participate in authentic reproductions from that dark, yet ever so important period of United States history. His knowledge and experience of that era will be a fun resource for those interested in learning more about our nation's history. You'll find he is ready and willing to share his experiences, as well as to help guests plan their own activities while they are here.
Since Peter and Julia will be the primary point of contact for guests, they have moved into the office/residence so as to be available to handle any needs that may arise.
You might be wondering, what about Stan & Deb? Where are they going?
Stan and Deb have moved into the apartment under Cabin Edgewood, where they will remain while training and providing assistance for Peter and Julia. They will leave in early December for Florida, to be closer to both of their families.
Stan will continue to take care of the finances and the marketing of Cabin Creekwood. The apartment under Edgewood will stay furnished, so it will be ready to welcome them back at any time. You can be sure that Stan and Deb will return to Cabin Creekwood frequently throughout the year. They'll be around to help Peter and Julia during some of the busier times, and to continue their training for seasonal maintenance projects, like the opening of our pool in the spring.
And besides, as you already know if you've been coming here for long, the mountains have a way of getting in your blood!