Good job! You have successfully confirmed your subscription, and will receive the information you requested in your email inbox shortly. If for some reason you don't find it in a few minutes, please check your spam folder.
I would also recommend adding stan@cabincreekwood.com to your contact list. That way you should never have a problem receiving our emails.
Now that you've successfully confirmed your subscription, here's what you can expect:
Your first email, as described above, will be the information you requested.
Over the next few days, you'll receive a few additional emails with information that is useful for homeschool families… highlights on places to see, ways to get the most from your learning getaway, etc.
Periodically we'll shoot out an email offer that will be for homeschoolers only, so if you don't want to miss out, make sure you stay subscribed to this list.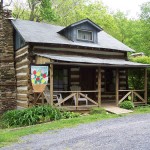 In the meantime, here's a link to the single most popular cabin that we have. As you can imagine, it is our pre-Civil War cabin built by Confederate Soldier William Tolley before the war. On that page you can take a video tour, and see how booked up the cabin is. If you do manage to wedge in a few days, we have a complete scrapbook in the cabin detailing all the information we've been able to gather on William, his time as a soldier, and the cabin.
Blessings,
Stan Horst