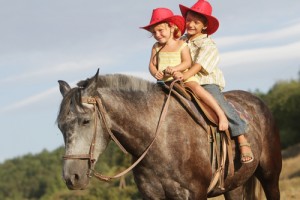 Are you the family who wants to explore and experience all that the mountains have to offer? Then our amazing family adventure package is for you. You'll receive:
A 1-hour Trail Ride on Horseback (minimum age 6)
The use of our Canoe or Kayaks for the day, including paddles, life jackets, and delivery to Sherando Lake (Due to changes in Forest Service regulations and the enforcement of those regulations, we are no longer able to offer boat rentals at Sherando Lake)
Your very own Picnic Lunch for your day at the lake featuring incredible hoagie style sandwiches from a local deli
Our personal recommendations for a circuit hike or transportation to a drop off point for a through hike, custom tailored to your preferences of distance and difficulty
Use of our backpack loaded with hiking essentials including waters and snacks.
The Family Adventure Package includes each of the listed activities one time for each person in your group, and can be added to your reservation for just $119/person. It is recommended for a minimum of a three-night stay.
To reserve your own family adventure package, simply give us a call at 540-943-8552. Please allow a minimum of 5 days for us to prepare.