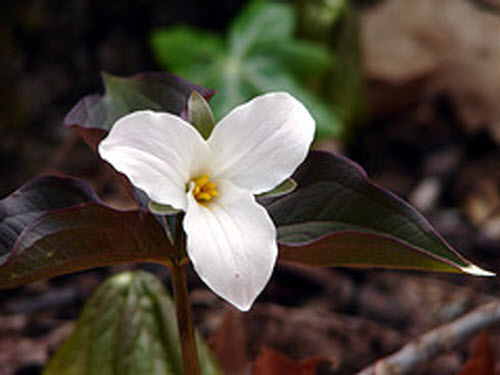 As winter falls behind and grows smaller in our rear view mirror, we breathe a sigh of relief and look forward to the new life that springs ahead. A sigh of relief because this year has been especially hard on us – far more snow than usual, extremely cold temperatures, frozen pipes in numerous cabins, and crazy high heating bills.
But all that is behind, and we look forward to the beauty of spring and the busyness of summer.
In the Blue Ridge Mountains of Virginia, spring is a time of abundant wildflowers, rushing streams, and crashing waterfalls. It's a great time to strike out on a hike to see how many different types of wildflowers you can find…trillium, mayapple, mountain laurel, dogwood, and rhododendron to name a few.
It's also a great time to get on a horse at one of our local stables, and let the horses do all the work!
At Cabin Creekwood, spring is the time when we clean up from winter and gear up for our busiest season, summer.
You'll see us around the property, trimming bushes, weeding flowerbeds, opening the pool, and performing many other tasks that need to be done to provide a quality experience for our guests.
But it's good. You see, we love providing a truly exceptional getaway, and the happiness of our guests makes all the work worthwhile.