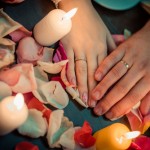 Are you looking for a way to spice up your next wedding anniversary? To make it really special and to celebrate your romance together? Well we have a solution for you! You are entitled to a getaway charmed by all the creativity of Stan & Deb, your official Romance Directors. Here is what you'll get with our exclusive Romance Homerun package. Imagine…unlocking the door to your cabin, and finding:
A cheerfully crackling fire awaiting your arrival (if cold enough), and candles, already lit
The soothing melody of soulful love songs playing in the background
A bottle of sparkling cider just waiting to be opened
A Beautiful Flower Arrangement on the Table
Your Personal Chocolate Fondue w/ Lots of Fun Dippers
Now is that a getaway to remember? We guarantee it!
Make your next mountain getaway extra special by adding our Romance Homerun Package  for just $119. Simply give us a call at 540-943-8552. Please allow a minimum of 5 days for us to prepare.