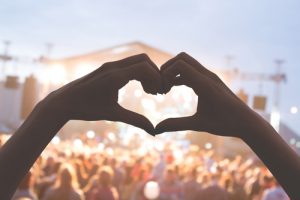 Summer time will quickly arrive at our cabin rentals in Virginia. The surrounding mountains and valleys will be full of life and greenery as the last bit of winter finally melts from the trees. Cabin Creekwood is the perfect location to visit for your summer vacation. Convenient to many towns with summer events, you can always find something to do. Charlottesville, a short drive away from our Lyndhurst cabins, is always a bustling hub of fun summer activities.
Beginning last week, Charlottesville's 30 year long tradition of "Fridays After Five" began for the summer. This weekly festival features live music at Sprint Pavilion in the middle of town. The event begins at 5:30, ends at 8:30 and is free for all those who wish to join in Charlottesville's favorite Friday pastime. When you are visiting our cabin rentals in Virginia, make sure to stop by for live music and fun.
The concert series features artists local to the area. All artists have a unique sound and flair, all from a myriad of genres of music. There is always something for everyone to find. Grab concessions from the volunteers of local non-profits who share in the proceeds. Throughout the course of the summer, these volunteers with non-profits raise tens of thousands of dollars to support their work in the Charlottesville community.
Fridays After Five will continue to run through September 8th, so you have plenty of time to come out and visit. Our guests rave about dancing the night away in the heat of July in busy bustling Charlottesville and then waking up the next day in their peaceful cabins to go kayaking in the quiet of nature. You get the best of both worlds. Call Cabin Creekwood today to book your cabin for the vacation of a lifetime. We hope to see you soon!