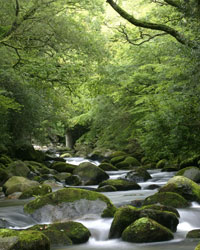 Escape to Virginia's Shenandoah Valley. Filled with beautiful landscapes, and picturesque scenes, our area is nestled right between the Allegheny Mountains and the Blue Ridge Mountains, creating a truly stunning place to visit. In our mountain paradise outdoor activities abound and vacationers can enjoy hiking, mountain biking, horseback riding, fishing, canoeing, kayaking, golf, and so much more.
In addition to the fantastic outdoor activities to choose from, vacationers can discover our charming communities and visit the historic Presidential estates of both Thomas Jefferson and James Monroe. For shopping, our visitors delight in browsing through Virginia's Antiques Alley, an area in central Virginia in which antiques shops flourish, with unique, fine treasures from numerous places and time periods.
Browse through our site and learn more about the amazing Virginia Mountain Vacation you can have. Our Virginia Mountain Cabins are just minutes from Sherando Lake, the Blue Ridge Parkway, and Virginia's renowned ski area, Wintergreen Resort. We offer Virginia Cabin Rentals year around and invite you to come and stay with us on your next visit to Virginia's pristine mountain region.
Click on the links below for more information: