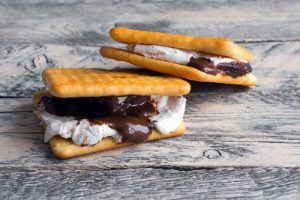 At Cabin Creekwood, we know the value of nature. The surrounding quiet and peace of the woods make our Virginia cabin rentals some of the most sought after vacation rentals in the area. We personally believe a little family time around a fire or on a porch can make your vacation more relaxing than even the top rated spa. What better way to get some quality time in with your family in the woods with the crickets chirping that roasting marshmallows and making smores around the fire.
Smores have been bringing families and friends around campfires for the longest time. No one knows the exact date or invention of the smore, but there are a few speculations and fun stories surrounding. Obviously, the genius dessert was created by a child. Who else could think to smash a hot melty marshmallow on a chocolate bar between to graham crackers? In fact, before it's earliest documented mention, smores were a campfire staple for girl scouts and boy scouts.
The smore treat, getting its name from the combined words "some more," dates back to at least 1927 when a "recipe" appeared in a girl scout book on how to build campfires. Alternatively, some resources attribute the invention to the Campfire Girls, some give inspirational credit to the Mallomar cookies or Moon Pie cookies. There's even speculation that the Victorian Era "sandwich cookies" filled with jam, cream, or lemon curd had a hand in the creation.
Regardless of how they were invented, everyone can agree that these delicious treats are perfect for all occasions. Next time you visit our Virginia cabin rentals at Cabin Creekwood, be sure to pack the ingredients in your bag to gather around our fire pits and make some more smores! Call us today to reserve the perfect cabin for your fantastic summer vacation.