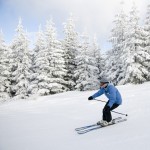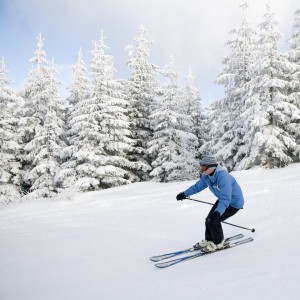 First come Christmas and New Years, with all the festive decorations, fancy foods, and family fun.
Then in our neck of the woods, the months of January and February see a host of travelers coming to try their hand slipping and sliding with winter sports. Wintergreen Resort is only 3 miles away, making us the perfect location to avoid the hustle and bustle of the mountain, enjoy the peace and quiet of a private mountain cabin, save money, and still participate in all the winter sports.
Winter may be a little slow in coming this year. In fact, the planned opening of December 12 is simply not going to happen. However, reports indicate that as soon as cold weather returns, the snowmaking will begin in earnest. With the massive snowmaking capabilities that Wintergreen has, it won't take long for all the slopes to be covered and ready for use!
At Wintergreen, skiing and snowboarding are front and center, with miles of trails, slopes with varying degrees of difficulty, and a terrain park that has been voted #1 by Blue Ridge Outdoors Magazine.
For those not inclined to strap a skinny board or two on their feet and hurtle down the side of the mountain, one popular option is snow tubing. This perennial favorite provides the opportunity to whiz down a long slope in a more controlled environment, without having to master the balance and control of traditional skis or the even more challenging snow board. At Wintergreen, the Plunge tubing park is as high as a ten story building, and longer than three football fields!
Participants in snow tubing use a large inner tube to slide down the hill in any one of a number of lanes. There's no steering necessary, and a lift takes you and your tube back to the top for another run. Snow tubing has grown in popularity, making it a challenge to get tickets on many weekends and holidays. In fact, we recommend that guests go online and purchase their tickets ahead of time to make sure they can get in.
Olympic ice skaters appear to glide, jump, spin and twirl so effortlessly – they seem as light as a feather! At Wintergreen, you can find out for yourself that it's harder than it looks, and have a grand time doing so. The 45×90 foot ice skating rink known as Shamokin Ice provides a smooth surface to give it a whirl.
Just imagine… a busy day playing in the snow and on the ice, followed by a nice relaxing evening, warming up by the fire, enjoying a cup of hot chocolate, laughing over recollections of the spills from the day, and making new memories with the ones you love. Now that's a winter getaway worth having.
So check out your calendar now and plan your winter sports getaway! Weekends in January and February are starting to book up, and the real rush will come as families get together during the holidays and spend time talking and dreaming about their next adventures. If you go ahead and pick out your dates now, you'll have a much better chance of getting the cabin you want than if you wait until the holidays.