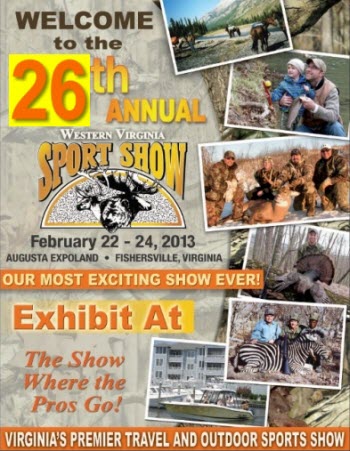 Known locally and abroad for its diverse offerings, the Augusta Expo hosts a variety of fun events, including the upcoming Western Virginia Sport Show that only comes to town once a year. At this event there are a number of vendors, celebrities, and wild side shows to check out. With something for all age groups and interests, this is a Sport Show like no other for three main reasons.
Reason #1 – Famous Faces
Jep and Jessica from Duck Dynasty TV reality show kick off the list of celebrities that will be in attendance at this year's event. Stan Potts, a hunter for over 40 years, has enjoyed his share of fame simply doing what he loves; Stan has starred in many television shows on a number of large networks including ESPN, Fox, and the Outdoor Channel. He will be a part of the Western Virginia Sport Show as well.  Hunting enthusiast and author, Jim Zumbo will also be in attendance, along with full time fisherman, author, and professional speaker Blaine Mengel. Also included on the list of authors and TV celebrities to be in attendance is 2013 Wildlife Artist of the Year, Gerald Putt.
Reason #2 – Wild Side Shows
Most people have a thing for bears, they are just so cute and cuddly—and often times they are the shape of the first stuffed animal we love as children. Few can claim to love bears as much as the Welde family, who scores a lot of attention because instead of cats and dogs, they have a collection of bears ranging from 200-1200 pounds, for their pets. Meet the gang and check out their jaw dropping show, you'll be glad you did!
Raptors are another intriguing species that we don't see much of up close and personal. Howard and Jason Caldwell will deliver more than a chance to look at these beautiful and highly trained birds. You'll also learn all kinds of amazing facts, as these two are experts in the art of Falconry, which is hunting small game with the help of these intelligent and talented birds.
Reason #3 – Get Your Game On
You don't have to be a hunter to appreciate the amazing selection of game on display at the Western Virginia Sport Show. Everything, including bears, birds, a lion, alligators and the classic deer are packed tightly on display, offering so much to look at! For children, this is an excellent opportunity to see animals up close and personal that they would otherwise only see on TV or in picture books.
For those that want to show off their own catch, there are locally grown rainbow trout that anyone can fish for as many times as they want. While you can only keep one fish to take back home for dinner, there will be a trophy given out to whoever catches the largest bite!
Visit the Best Sport Show
With so much inspiration all around, you just might want to buy a thing or two—thankfully, there are plenty of vendors ready and waiting to sell you some truly unique and amazing merchandise. Everything from the entertainment to the environment is absolutely perfect at Western Virginia's annual 26th Sport Show. Having gained much notoriety throughout the years, professionals and tourists flock to this event for a guaranteed good time. The 2013 Sport Show is scheduled for February 22, 23, and 24. To learn more and plan your adventure, check out the official webpage here.