The Virginia Horse Center is located in nearby Lexington. On these large sprawling grounds there is always something going on—and you don't have to be a horse lover to get in on the fun! The Virginia Horse Center was established to promote equines on all levels, and in all disciplines. Since its establishment it has only continued to grow. As of now the 600 acres of land holds an Olympic caliber cross-country course, eight barns, and a therapeutic riding center, along with a plethora of indoor and outdoor arenas—one of which holds 4,000 people. This rather large arena is known as the Howard P. Anderson Coliseum. It works great for horse shows, concerts, and anything else requiring a large, covered venue. Due to its beauty and size, many different events are popularly held here. In fact, vendors are prompted to make reservations up to 2 years in advance to secure a time slot. This allows guests a full roster of engagements to enjoy, most of which are free to attend.
First Class Horse Shows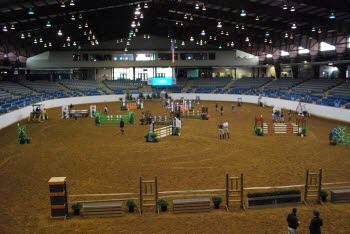 While there are a number of events hosted at Virginia's Horse Center, the horses are—as the name suggests—a big focal point. Therefore, everything equine related is first-class, from the footing in the arena to the layout of the barns. If you are a horse rider yourself you can bring your horse along and enter one of the many different shows offered. The Virginia Horse Center does not only cater to one discipline. Instead, they host horse shows for nearly all of the main disciplines, including dressage, jumping, trail, saddlebred, and barrel racing. If you don't have a horse to show, you can still attend most of the shows for free as a spectator. Come on the right day and you will be in for a pleasant surprise–horses sailing over 5-foot fences is quite thrilling to watch. Many of the shows held here are 'A' ranked, so the best of the best horses and riders will be in attendance. Come prepared to gawk. Around these massive stables there is always something going on, even in the winter there are horse shows to prepare for the spring shows.
Hoofbeats Therapeutic Riding Center
Horses are extremely therapeutic, so much so that studies are now being conducted out of Germany trying to understand why horses have such a healing power. It turns out that the actual rocking motion of a horse is stimulating and calming all at once, which thus releases feel-good chemicals within the brain. Although those that have spent adequate time around horses know that there has to be even more to it than this, simply being around horses, even on foot, is calming. In order to further spread the healing powers of horses, the Virginia Horse Center has established the Hoofbeats Therapeutic Riding Center.
Something For Everyone
Horses are not the only stars at Virginia Horse Center, there are also a number of other ongoing events that involve different key characters, take for example the dog. Regular canine shows are put on here as well. As an attendee you will get the chance to view many different breeds of dogs, pick a favorite and see if they win anything. Not only are these dogs judged on their overall appearance, but they must be agile and athletic too; in other words, get ready for some fiercely cute competition.
Animals are always on the premises but there are some events that lack four-legged friends, such as the periodic music festivals held on the grounds. Depending on the time you plan to attend there might be a music festival going on for you to check out. There are also occasional farmer's markets that set up shop here, allowing you a chance to browse through fresh agriculture and other authentic goods. Check the official website for weekly updates on upcoming events.