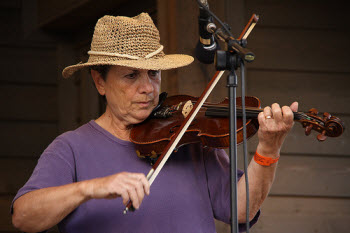 Break out your dancing boots and get ready to boogie! On Friday nights the place to be is Clark's Lumber Company—a humble sawmill by day, this building becomes a place to really let loose come night! Offering all the best old classic music, you won't be able to keep yourself from mountain dancing along with the mob of other attendees. Located only 45 minutes away in Raphine, this weekly tradition is held from 7:30- 10 pm on Friday nights. Join 80-year old long-time owner, Bruce Clark, and a room full of others ready to dance off their weekly worries—for less than you'd spend grabbing a couple of milkshakes at McDonalds!
Alive with History
Cotton-Eyed Joe is a song that we all know, even if you've never mountain danced or picked up a guitar. This famous tune will likely be caught playing at the event—especially considering the main character of the song (Mr. Cotton-eyed Joe himself) is a relative of the owner, Bruce Clark. Bruce himself is an interesting man with a lot of personal history soaked into the sawmills' land. Today he resides right down the road just as he has nearly his entire life. The best part is that Bruce is truly engaged with the weekly dance traditions; he is even listed on the official event announcement as one of the two main people to contact for more information. Despite his age, he still participates in the dancing himself, showing off the fancy moves he's taken years to perfect. As your feet pound against the floors, and shouts spring up out of the crowd, you will feel alive as ever—a smile impossible to keep off your face.
Fun For All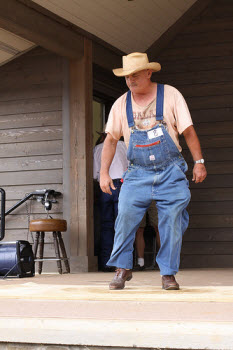 Just because you have never tried the old fashioned fun of mountain style dancing doesn't mean you can't have a great time partaking in the action—no one is going to judge you either, this is all about having a good time! Bring out the kids; nothing is cuter than watching a little one boot-scoot their way across the dance floor. In fact there are so many people that attend each week, it's likely you'll be left alone in your own little world as you figure out the beats of the music. Each week over 100 people come to listen, dance, and participate in the festive music making. Although not just any musicians are allowed to play here, the best of the best come from miles around to share their love of mountain music and their amazingly inspiring ability to create the music themselves.
Free Food
Dancing always works up an appetite, no need to worry—there are a number of concessions laid out for your enjoyment in an adjoining room to the dance floor. Pound cakes, beverages, and cookies galore are placed out for you to eat with delight. Best of all, the food, beverages, and coffee are free of charge, a simple thanks for joining a long-running tradition that brings a lot of fun and joy to the town of Raphine.
Come on by this Friday and join in on the fun. If you're new to mountain music you will really get an eye opening experience that is different from anything else you might have ever experienced. Then again, if mountain dancing has already penetrated your bones and become a favorite past time, you will be plenty happy to experience your passion alongside the lovely people that regularly frequent Clark's Lumber Company for the Friday night dances.
For more information and to plan your dancing night, visit the official webpage here.
photos courtesy of Gamma Man.