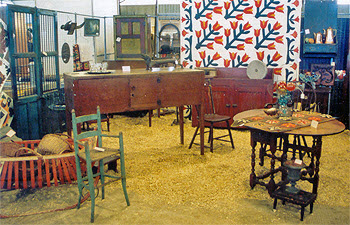 Hello Readers, there is an exquisite event occurring this upcoming weekend, May 10th through 12th, 2013 that I simply must tell you about. If you have a passion for art, fine jewelry, enjoy beautiful collectible items and 18th century English and American furniture accompanied by vintage accessories; you are in for a delightful treat. Come on over to the Shenandoah Antiques Expo and experience the aesthetics of the glorious Shenandoah Valley in Virginia while browsing through a huge selection of merchandize that has been intricately and beautifully crafted.
Where it all Began

Many years ago, four people got together and thought among themselves, "why not create an event where art and antique lovers can come together and trade?" And so the Shenandoah Antiques Expo was born. Sanford and Mary Ferguson, along with Raymond and Martha Stokes hosted the first exhibition in October, 1986. As time passed, visitors and exhibitors of the Expo grew in numbers. So much so, that, stalls/booths are set up both indoors and outdoors; there are even merchants conducting business from their trucks or vans at Fishersville in the scenic Shenandoah Valley. The Shenandoah Antiques Expo is now held semi-annually; this May will be the 52nd hosting. Boasting over 300 exhibitors in its Spring edition, the Expo is sure to provide some of the very best items found in the Mid-Atlantic region.
Something for Everyone

So who exactly is this Expo for and what can they expect to find there? Great question, I'm glad you asked. The Expo is for you, yes you. Whether you are a Craftsman, Student, Scholar, Art Collector or Dealer, Decorator, a Homemaker, or just someone who is intrigued by refined, gracefully aged items; I am positive that there is a piece or several pieces of antiques with your name on them. At the 52nd Shenandoah Antiques Expo you will find superb quality American and English furniture – painted and non-painted, some displayed in a room setting to give you a glance into what it would look and feel like if you acquired a piece or an entire collection for your home or office. Browse an impressive display of art work, jewelry crafted with precious metals and stones, oriental rugs, beautiful stone and glassware, decorative accessories and a variety of other collectibles. You can shop to your heart's content, selecting from an array of top of the line merchandise that you wouldn't be able to find anywhere else, all in one place.
Location and Setup

The Shenandoah Antiques Expo is conveniently located off exit 91 on I-64 at Fishersville, near Staunton and Waynesboro and just 5 miles east of I-81. As mentioned above, there will be more than 300 stalls set up inside the oversize exhibition hall. Attached to the hall is a huge fully enclosed barn hosting more exhibitions. In addition, there are four other barns that will be used to display an assortment of vintage décor. The Expo sits on close to 200 acres, which proves an adequate amount of space for outdoor exhibition booths, merchants using their own vans and free parking for all in attendance. The only thing you'll have to worry about is not having enough time to view all of the exquisite items. You might very well need to repeat your visit. That's fine, pack an overnight; just 20 minutes away from the Expo is Cabin Creekwood. These comfortable cabins will only add to your phenomenal antique show experience. Each cabin is furnished with the amenities you need; so watch a movie or go for a stroll on the grounds after your trip to Expo.
Dates and Time of Show

The exhibition is set to run for three days. On Friday May 10th, the grounds will be open from 10am – 5pm. An admission fee of $10 will grant you access to the Expo on all three days. Dealers will set up their displays Friday morning; early patrons can browse and shop during setup. Exhibitions open an hour earlier on Saturday, May 11th: collectors and dealers alike have a full 8 hours to make the most of their day; 9am – 5pm. Admission is $5 and is good for the following day. Sunday, May, 12th and the final day of the Shenandoah Antiques Expo, grounds open at 10am and close at 4pm; admission is $5. So if you can't get a chance to attend Friday or Saturday, be sure to take advantage of the last day: there might be a piece of jewelry, decorated stoneware or artwork waiting just for you.
The 52nd Shenandoah Antiques Expo promises to be an exceptional shopping experience that Dealers, Collectors and the general public will enjoy.