There's a new restaurant in town. Well, maybe not new, but new to me. And town in this instance is Harrisonburg.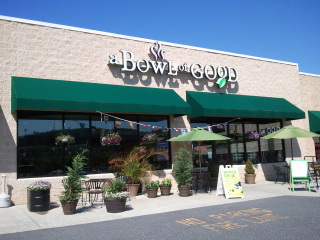 Yes, I know Harrisonburg is a bit of a drive from our cabins, but if you happen to find yourself there either coming or going, or perhaps for a day trip, I would strongly suggest you give this restaurant a try. It is different from every other restaurant that I've experienced, and personally, I think it is worth the drive, just to try it out!
The restaurant I'm talking about is called "A Bowl of Good." And that name fits them perfectly. What you'll get is a bowl of good, in more ways than one.
When I try to describe "A Bowl of Good," I find that I can't put them in a typical restaurant box. You see, they're not serving a particular ethnic style, they're not completely organic, they're definitely not vegan or vegetarian, although some dishes would qualify, and they're not "fast food" as we typically think of fast food.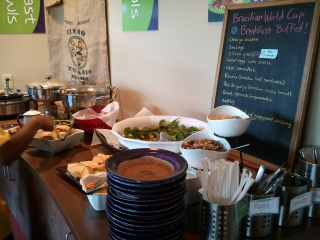 I will say that they serve up some delightful dishes from all over the world, including the countries of Thailand, Vietnam, Nigeria, Greece, and more. So I guess that makes them a bit of an ethnic restaurant, with variety!
One thing is certain. Every time I've eaten at "A Bowl of Good," I have left feeling completely satisfied. Full, of course, but satisfied in more ways. Like satisfied with the quality of ingredients that I was served; satisfied with the ethnic culinary experience; and satisfied with the personable way I was treated.
Speaking of ingredients, "A Bowl of Good" may not be completely organic, but they use locally raised meats and locally grown produce. You can actually taste the freshness, which is so refreshing in this day and age, when we're used to ingredients that have to travel from who knows where before they can be served up to us. Of course, this is much healthier and more satisfying than what we normally experience.
You'll also find many gluten-free options, as well as vegetarian dishes. Just check out their menu to see which ones will work for you.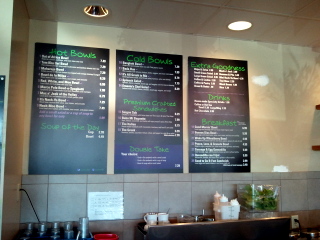 Speaking of the menu, I recommend going online and examining the Bowl of Good menu ahead of time if you get a chance. You see, picking from a list such as the "Bowl De La Milpa," "Maharaja Bowl," and "Tom Kha Gai Bowl" isn't easy, unless you take time to read the descriptions. And who likes to do that while standing in line? I personally recommend the "Tom Kha Gai Bowl," at least if you enjoy the flavor of coconut. And of course the Saturday morning breakfast buffet. I'm getting hungry just thinking about it!
So get on up to Harrisonburg and give "A Bowl of Good" a try. I think it is worth the drive, all the way from Cabin Creekwood. Why not combine it with some other activities, like visiting the Shenandoah Heritage Market? And make sure to let me know what you think of "A Bowl of Good."
To see a really cool video of how "A Bowl of Good" got its name, click here and watch the first video.