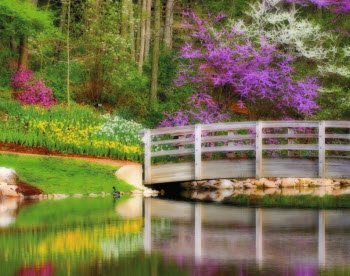 For those with a love and appreciation for wildlife, specifically birds, the Edith J. Carrier Arboretum (EJC) at James Madison University (JMU) in Harrisonburg, VA has two upcoming and very exciting events: Birds of the Arboretum presentation by Diane Lepkowski and, a guided bird walk with Greg Moyers.
Diane Lepkowski – Notable Avifauna Photographer and Enthusiast
Vice President of Field Trips for the Rockingham Bird Club of Harrisonburg, VA, Diane Lepkowski is a noted bird enthusiast and photographer. Her presentation, Birds of the Arboretum, on March 27, 2013 at noon will give you an informative venue with which to learn about the birds flying around you in the arboretum. Her photography is regularly featured on the Arboretum Life's webpage photo gallery as well as the Birds of the Arboretum page. If you are relatively new to the bird-watching hobby, you are fortunate because Diane will cover all the basics, including techniques and equipment necessary for fun, memorable trips. You can also certainly count on her to share some humorous stories on her recent adventures as well as opportunities to glean insightful information from her experiences. Conveniently, immediately following the review and slideshow there will be a question and answer session during which Diane will gladly answer any and all of your avifauna-related questions.
Greg Moyers – Field Trip Guide
Meant as a companion or part two to the Birds of the Arboretum presentation, Greg Moyers will lead you on a guided walk through the EJC Arboretum on April 6, 2013 at 8:00 am. A member of the Rockingham Bird Club for nearly 10 years, Greg frequently leads birding trips to all the local hotspots to view and photograph birds in their natural habitat, including areas like Lake Shenandoah, Switzer Dam, and Skyline Drive. He's had an interest birds since youth and studied biology up through the Master's Degree level, earned from JMU. This guided walk is an incredible opportunity to learn more about how to properly photograph and view birds in their habitat, all while picking the brain of someone who has been doing this for many years. It isn't often that you get the opportunity to learn, in a field setting, lessons from someone who has an infectious passion for what he does. You will not want to miss either of these two events.
Arboretum Facts – Features, Terrain, and Accessibility
The arboretum is home to over a hundred species of various birds, serving as an important migration pit stop. Situated on the JMU campus, this woodland sanctuary features winding trails and a variety of terrain that includes forests, ponds, slopes, and lowlands, making it a habitat for a wide range of flora and fauna. The arboretum prides itself in being a public classroom, enabling students, teacher, and professors from around the area to use, learn, and explore. The grounds are open 365 days a year, dawn to dusk, at no charge. Thanks to the efforts of people in both the public and private sectors, the Edith J. Carrier Arboretum is the (from the arboretum's welcome message) "only active, publicly-oriented arboretum on a Virginia state-supported university campus." Without a doubt, the diverse nature of the arboretum's habitat provides you unparalleled opportunities to view and photograph some of nature's finest specimens.
More Information – Links and Registration
For more information on these two fun, upcoming events, this link is provided that will direct you to JMU's webpage. Be sure, once on the information page, to click the link (also hyperlinked here for you) to the registration form so you have your spot reserved for one or both of these two events.