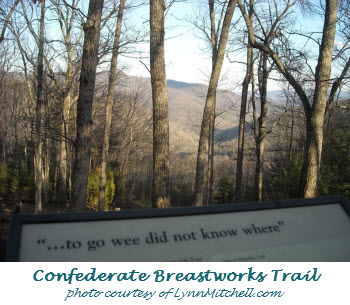 Located 2,875 feet in the clouds, the view from the Shenandoah Mountains Confederate Breastworks is simply breathtaking– not only because of the surrounding beauty and unmatched views but because of the history intertwined tightly to this exact swab of land. While there are numerous hiking adventures to embark on while in scenic Virginia, why not go on a hike that is bursting full of important American history. The Civil War marks a dramatic era in American life, a series of battles, moments, triumphs, and defeats– some of which occurred right on the Shenandoah Mountain tops. Hike the Confederate Breastworks Trail and you will witness first hand just how much history has occurred on this land.
History Hiker
During the Civil War soldiers that were under the orders of infamous General Thomas "Stonewall" Jackson were instructed to stand guard at this very sight, known as Confederate Breastworks, in order to guard the Shenandoah Valley. All of the intricate details that make this land so special will be highlighted as you make your way towards the top of mountain. Bloody battles broke out here, marking definite change as the war spun out of control– each piece of defining history is marked by a monumental description, making for an enlightening experience with or without your own private tour guide.
A Trail For Everyone
There are a number of different trail options that are available to visitors. Depending on the stamina of the individual and the age of those in attendance the tour you select will vary. There is a 5 mile trail available to hike, this trail might seem like an unbearably long distance, but it travels over fairly flat ground and makes a suitable adventure for most individuals, including older-aged kids. There is also a much shorter half-mile trail option that one can loop around. Although shorter in length this trail offers many visual displays that play off of iconic incidents that occurred here during the Civil War.
More than Just History
While the historical significance bleeding from the land is enough to keep you intrigued for the entire journey, there are other things that make this hike equally as special. Take the vast array of wildlife hikers rant and rave about being able to view while on these lively trails. So far away from modern society, the wild side of planet earth is able to thrive– making for some incredible entertainment, and not to mention ideal photo opportunities! For those that enjoy birdwatching, get ready for some great views and spectacular displays of all types of winged creatures. Unlike the Zoo, these animals are truly living out in the natural environment making for an eye opening and truly authentic experience. Everyone who comes witnesses something new and unique, making no two hikes the same experience.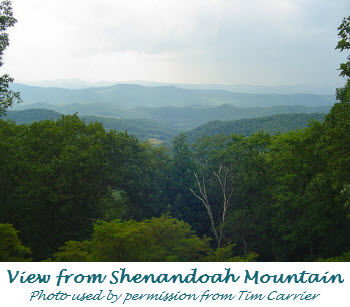 Come Prepared
No matter which hike you decide to take, a long or short jaunt will need some added packing. When hitting the trails, always make sure to bring water and food. You never want to be out in the elements without the proper nutrients to keep you alert and healthy. Also, it's important to keep in mind that the weather on the mountain changes with the elevation. Perhaps it will be more windy, warmer, or even colder once you get up where the views are all hiding. In order to always be prepared dress in layers that are easy to shed and light to store, either tied around your waist or tossed in sack. You might also want to consider bringing rain gear along, depending on the weather and extent of your planned hike.
All Shenandoah Has to Offer
Along the US 250, this mountain top summit is a part of the Shenandoah Mountains; Confederate Breastworks is bursting with history, wildlife, and views you will never forget. In order to soak it all in start exploring the hiking options available. The Shenandoah Mountains are full of activities and exploration options. To start planning your historically rich journey, visit here.