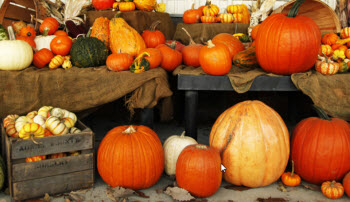 A picture is worth 1,000 Words, this saying couldn't be more true looking at Gary and Lynne Hess's website for their family-run business, Hess Corn Maze. Each snapshot shows another smiling face, bright happy eyes, as fall fun whirls all around– with pig races and carousel rides, the guests at this adventurous farm are always having a good time.
Humble Origins
Gary and Lynne Hess have farming at the heart of their bones, both grew up on sprawling land complete with livestock and gardens. They consider their place in Shenandoah Valley their home and in light of sharing this fun country lifestyle, they keep the gorgeous place open for visitors 7 days a week!
Come back regularly, the two are constantly adding to the place. Although there is no time like the fall, when the weather is perfect and there's that pre-holiday excitement looming in the air.
Here are 4 ways to make the most of fall this year at Hess Corn Maze.
Legendary Corn Maze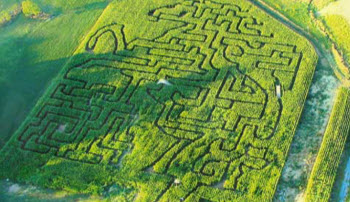 It wasn't until 2004 that the first maze was built onto the property. To highlight just how popular this twist and turn of blind corners is, over 20,000+ people have passed through since opening day. This maze is complex, complete with 2 bridges, it takes most people one hour to find their way out—do you think you can beat the average time?
If 1 hour seems a bit dizzying to be trapped in a maze, the Hess's have now added another, smaller maze that takes only 15 minutes to complete on average.
The corn maze is open now through November 6.
Fall for Pumpkins
Big orange pumpkins await your picking! Hop on a hayride and then take off to find the pumpkin of your dream. Kids and parents alike will enjoy all of the holiday activities going on, including pumpkin painting and starting November 3rd and 4th, you can participate in the "Great Pumpkin Smash!" Bring your carved pumpkins to partake in the smash-happy fun.
Historical Horses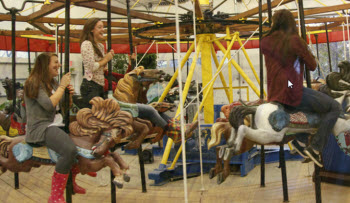 The 30-horse carousel up and running at the park was a surprise addition in 2007. Purchased at auction, the carousel has since had its long history extensively researched, every horse now painted to represent past figures and pieces of Virginia's vivid past.
The carousel is not the only hunk of history available to gawk over—visitors also enjoy the many old cars, tools, toys, and Indian artifacts that are set up on display.
Greenhouse
Catch the green house before it closes for the winter on November 1st! With over 30 years of flowers blooming at this site, time has gone into creating the most beautiful of gardens. The flowers in this greenhouse are explosive and a one of a kind treat to witness. With the largest selection of flowers in the surrounding area, anyone who has a weakness (to any degree) for flowers, will simply melt at the sights and smells.
At all times of the year the gardeners' dream gift shop is open, selling everything from gardening tools, to one-of-a-kind silk wreaths. Enjoy a lovely array of the most perfect flower arrangements; you just might want one after seeking inspiration from the greenhouse.
If you come in a group you can also rent out the barn on site for lunches or large group activities. If indoors doesn't seem right at such a picturesque location, enjoy lunch on picnics beneath the shade of the mature trees.
Hours of Operation for fall:
Monday-Friday: 3-6
Saturday: 10-6
Sunday: 12-6
For more information about planning your fun fall day, visit the official website at, Back Home on the Farm.