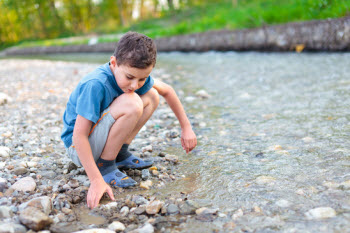 You don't have to travel far from Cabin Creekwood to find a host of fun activities. Although some are best suited for adults or older crowds, there are also a great many geared directly for kids. It's not easy keeping kids' attention, and let's face it—as soon as kids get bored, they are incessant about letting everyone know. In order to keep the kids happy while you enjoy the beauty of Virginia, check out some of these kid-approved activities—guaranteed to delight more than just your children!
Practically Free Activities!
The saying goes, 'nothing in life is free.' Well believe it or not, the saying does not ring true for kid-friendly attractions in Virginia. Here there are a number of things to do with the whole family that will literally cost you next to nothing. Take the numerous creeks available throughout the local area—all of which provide an exciting chance for kids to get their hands wet, see new creatures, and maybe even learn about a new habitat.
Located in nearby Staunton is Gypsy Hill Park; a beautiful park with over 200 acres to explore, where kids will have fun participating in a number of outdoor activities. Of course, being on vacation takes away the usual things kids enjoy at the park, such as their bikes or roller blades. Instead of using outdoor gear, just head to the duck pond where kids can have a field day feeding the ducks with their little baby ducklings in tow. Before or after feeding the cute water birds, kids can ride on the Gypsy Express, which is a train that runs on the weekends (during season) at the park. At only $1 per ticket to ride—this has become a favorite attraction for both locals and tourists!
No Snore Museums
We all know that taking our kids to the museum is a good thing; in fact, kids who spend more time in museums statistically do better in school and are overall more successful. The only problem is that many museums are far from kid friendly. Thankfully, Virginia houses the Harrisonburg Children's Museum. As you can tell by the name, it is created exclusively with children in mind. Previous visitors rant and rave about how much fun their children have had here, but more surprisingly—parents and older kids are having fun here too! The best part about spending the day at this children's museum is that not only will the kids have fun, but they will also be learning. When education is presented in engaging, hands on ways, it becomes more relatable and can thus spark a love of learning even in the youngest of attendees!
Harrisonburg Children's Museum official website
While the P. Buckley Moss Museum is not particularly recommended for children, the hidden treasure on the downstairs floor of this small museum is something almost any child will appreciate. Here a 9-foot Amish doll house takes center stage of the room. Kids can explore the largest doll house they have likely ever seen! This open faced house is full of intricate details for everyone to be intrigued by.
P. Buckley Moss Museum official website
Animal Attractions
Kids are naturally attracted to animals; how could they not be? Animals are amazing—see some of the rare, exotic, endangered, and just plain unique animals up close and personal at one of two nearby locations. If you have always dreamed of riding elephants, the Natural Bridge Zoo offers this opportunity plus so much more! They also offer a petting zoo, an array of live animal shows, and so much more to keep the kids wearing those smiles all day long.
Natural Bridge Zoo official website
Another option is the chance to drive your car through teams of wild animals—at the Virginia Safari Park there are scenic hills and luscious landscapes all around you and the dozens of animals. The park also allows you the opportunity to purchase grains to feed the animals. This will have them flocking to your vehicle windows—poking their heads inside in search of the food. Kids are sure to get a real kick out this!