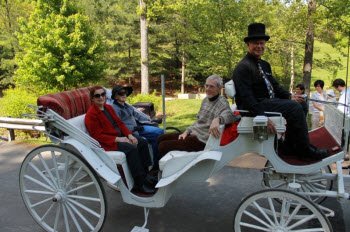 With Valentine's Day just around the corner it's time to start making those special plans. For those who are seeking a romantic adventure for two, and for those that have a whole family to wow, a horse drawn carriage ride is an ideal option. Four times a year, carriage rides are offered at the James Madison University's Edith Johnson Carrier Arboretum. These special events were established so that everyone could afford the spectacular opportunity to view the beauty of the Arboretum from the comfort of a sprawling carriage. What better time of year to take advantage of this chance than during the season of romance?
The Beauty of the Arboretum
The Arboretum at James Madison University is such a beautiful place. Known for hosting idealistic weddings and other once-in-a-lifetime events, there's nothing quite like this property. Full of foliage, bodies of placid water with wooden bridges arching across, and fields of green worth aweing over, you'll feel so blessed to simply be alive in such a perfect atmosphere, all while enjoying the sound of horse hooves clomping across the property, sweeping you away through a fairy tale portrait. Feel satisfied knowing this is a moment no one will ever forget, the type of adventure you discuss years after its passing.
The Royal Package
For such an affordable price it can be easy to assume the carriages offered are nothing short of rickety or far from superior, but that is not the case at all. In fact, the carriages and large draft horses tugging them along are just as glamorous as the surrounding landscapes. These are not just any carriages. With intricate details and big cozy seats, these horse-drawn carriages are made for royalty. They are so special indeed, that people who come once can't help but come again, making this into a Holiday tradition no one can seem to get enough of. Those that help put on this event note that people always seem to exit the ride with a contagious glow. If you don't get enough of the scenery during your carriage riding adventure, the grounds are always open to the public from dawn to dusk—therefore, you can take it all in as long as you like, that is until the sun slips away!
Perfection at an Affordable Price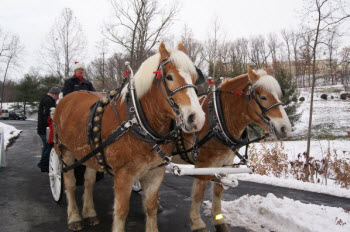 An affordable Valentine's Day activity can almost seem laughable to some, who understand that many of the most romantic activities make you pay an arm and a leg to enjoy. Carriage rides, especially during the season of romance, are no exception; although the EJC Arboretum wants you to enjoy an ideal carriage ride at a price everyone can afford. For those that are under two years of age and can fit atop your lap, you won't pay a thing! For children that are seven years and younger the price is seven dollars, and for anyone eight and up, ten dollars is all you will need to hitch a starry-eyed ride! Prefer to ride solo? There are private carriage rides available for any group with six people or less, simply rent the carriage for a flat rate of fifty-eight dollars and you are on your way!
Let the Romance Begin
Carriage rides take off every twenty minutes, but still make sure to call ahead and reserve a time because they typically sell out as each year this event becomes more and more popular. During the month of February carriage rides are scheduled for the 10th and 14th. For more information and to plan your perfect and affordable Valentine's Day escapade, check out the official webpage for EJC Arboretum carriage rides here.