Forget dogs, cats, and ponies—Alpacas are the coolest pets you can own! In fact, those who have Alpacas don't typically stick with just one or two; instead, Alpacas are often kept in herds, as just one of these adorable, and rather profitable creatures, never seems to be enough! If you are wondering what an Alpaca is, you are far from alone. This interesting creature is truly unique—something between a sheep and a llama. Originating in South America, Alpacas are able to adapt to living in rather harsh conditions, therefore they don't require a lot of water and they eat an entirely vegetarian diet.
Family owned and operated, Alpacas of Maple Grove is located in Raphine Virginia. This lush farm offers a real treat—the chance for anyone to see a whole lot of Alpacas living out amongst each other. In 2006 the place was born with only 11 alpacas. Quickly this number boomed into a herd of over 50. The space these animals roam is no small area; in fact these are lucky Alpacas who enjoy roaming 80 acres of farmland. While Alpacas are somewhat new to the Maple Grove family farm, the farm they are located on is anything but new—in fact, this farm has been in the same family for over 6 generations!
Profitable Pets
While Alpacas can be kept as a pet, they can also pay their own rent in more ways than one. Alpacas have a very special coat that can be used to make warm luxury items that are not itchy like wool, and that are actually hypoallergenic. Each Alpaca produces about 3-10 pounds of fleece per year. Multiply this by a whole pack and you're producing a lot of fleece! Many people start their own Alpaca farms in order to breed and then sell the offspring, a rather profitable business that is very rewarding as well. At Virginia's Alpaca Elite, there are a number of Alpacas listed for sale. Depending on their breeding the cost can dramatically jump from about $500 to well over $2,000.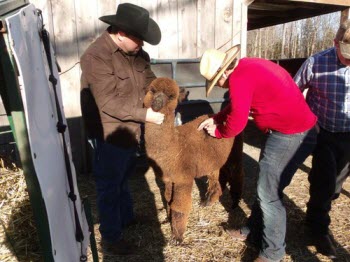 A Peaceful Day with the Alpacas
Alpacas of Maple Grove Farm was opened in hopes of sharing the peaceful lifestyle that comes with living among these lovely creatures. The gentle hum they emit as they roam the land, the sweet look on their faces, and the gentle nature they posses is only part of the reason that people easily become addicted to Alpacas! Animals offer a world of delights, smiles, and laughs. Be prepared to have your heart melt over how cute and friendly these guys can be! At Alpacas of Maple Grove, Punky is the Suri female mascot, although every Alpaca on this farm is a well-bred beauty. If you do decide that you just must have one, Maple Grove offers 100% financing! Regardless if you plan to purchase anything or not, a day spent out on this gorgeous land is sure to bring peace of mind and a world of fun memories.
Fun Facts About the Alpaca
Just like llamas, alpacas have a tendency to spit as a defense mechanism. Nice to know, they rarely let a spit wad loose on us humans, instead people tend to get hit when they get between two bickering Alpaca's.
Alpacas are highly durable and don't require too much of anything, in fact one can keep up to 10 Alpacas per every one acre of grazing land.
While Alpacas grow to adore most farm animals, they typically shy away from dogs, which they find rather threatening.
Alpaca fur comes in over 20 different colors, it is warmer than wool and it is just as soft as luxurious cashmere.
To learn more and plan your trip to Maple Grove Farm, check out the official web page here.