Antiques represent a hunk of history, a moment in time far away in the past. Antiques carry an air of mystery, one that keeps people collecting year after year. Perhaps there is no better way to understand the world our relatives resided in than to own a literal piece of the past; better known as an antique. These old odds and ends–clothing accessories, furniture pieces, or décor elements–have real presence in any home or wardrobe. They spark conversation, queries, and intrigue; antiques can be downright addictive!
There are many benefits to buying antiques—for starters they have lasted this long, a sign they will last long into the future. Their durability will come in handy if you ever want to resell your antiques; just like wine, antiques only get better (and more expensive) with age. Anyone that adores antiquing is destined to find himself or herself in Downtown Virginia, where a world of antique wonders awaits. As a starting point, here are 4 great antique shops to check out!
Valley of Virginia Wildflowers and Country Antiques

Jim and Susan McDowell share a happy marriage and a passion for antiquing. Talented at locating some of the greatest antiques, the two keep a plethora of goods on-hand to fill their showroom. The ancient quilts and other accessories offered for sale are not the only part of history on display, the showroom itself is a renovated barn! Remember, if you see something you've got to have, act quick—there's only one of each antique! To browse a selection of Valley of Virginia's inventory, visit their site here.
Stuarts Draft Antique Mall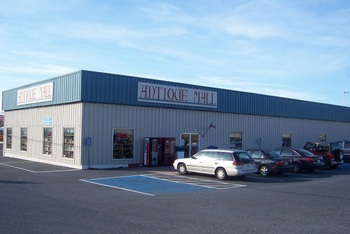 Packing more antiques than any one store, this mini-mall offers inventory from over 49 antique dealers. No matter what you are looking for, you are sure to find it here—with such a variety, pieces from every style and period are tucked away somewhere. Opening its doors in 1994, the Status Draft Antique Mall has been open for 19 years. Find the rare and unique, there are many specialty dealers on site. Open 7 days a week, visit their website for more details.
The Factory Antique Mall
This antique mall takes the cake for size; spanning over 90,000 square feet it stands as the East Coast's largest antique mall. Size isn't the only thing worth raving about though; the Factory Antique Mall was awarded 2012 Best of Virginia. Stay all day with the onsite café available for your human needs—this delicious pit stop is fondly called the Collector's Café. Continually adding new dealers and items, you'll find you can't just come once! If you're an avid antique collector, a curious browser, or a vendor yourself, learn more at the official webpage.
Memory Makers
If you are looking for antique clothing, you've come to the right place. Located in the heart of Downtown Staunton, the tiny treasures lining the showroom of Memory Makers will offer the thrill of antiquing without having to purchase something large and expensive, like an antique table or chair. While antique furniture shopping might put some kids to sleep, these little everyday items will capture attention and turn the wheels of even the youngest imaginations.
Virginia is a place known for it's deep-rooted history; perhaps that's why so many antique dealers flock here, whatever the reason the benefits are yours to reap! Downtown Staunton is antique-happy; Turtle Lane and The Frame Gallery are 2 more of the many antique shops to explore. While exploring downtown you will discover many stores that sell modern-day goods also have small sections in back reserved for antiques. Once you've experienced the rush of antiquing, you'll understand why!