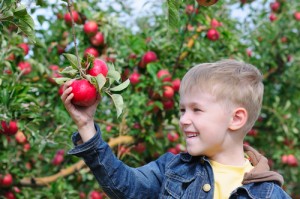 November offers a full month of apple harvesting and celebrating the apple orchards at Carter Mountain Orchard. This family owned operation offers visitors a chance to pick their own fruit and partake in watching apple cider and other goodies being made. Bring a large basket, or use one of the ones provided by the orchard and set about finding your favorite varieties of crisp apples. The Virginia Agriculture and Consumer Services Department reported that this year's apple crop in Virginia should only be described as 'out of this world'. They said that this year's crop was among the best that the state has produced in years. Take advantage of the delicious apples and take a trip to the orchard while on your vacation to the Virginia mountains. Our cabins for rent in VA are located a very easy drive away, about 30 minutes or so from the orchards.
November's Apple Harvest Event at the Orchard has Winesap, Granny Smith, Fuji, Stayman and Pink Lady varieties. The Gala, Golden Delicious, Jonagold, and York varieties have already been picked out. On the weekends you can enjoy hayrides, fresh pressed apple cider and even apple cider donuts. The crowds generally dwindle down this time of year so it's a wonderful time to visit if you have smaller children or just would like to avoid the larger crowds. The apples are generally available until the middle part of November, but the hayrides continue on throughout the season until the weather is just too cold. Carter Mountain Orchard is open November 1 – 29th daily from 9 am to 5 pm. They are closed on Thanksgiving Day.
Want to book a weekend trip to our region of the Virginia Mountains? Book the dates of November 6-8, 2015 and getaway. We also have some great rates through the week / mid-week that will not break your budget. You can getaway for less than $150/night if you stay with us!