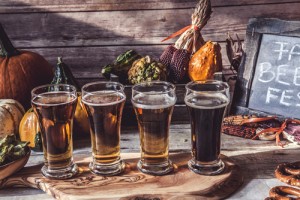 The Shenandoah Beerwerks Trail is a collective of over 18 breweries in the Shenandoah Valley of Virginia and one of the newest American beer trails. You can visit each if you plan a stop in Lexington, Staunton, Harrisonburg and Waynesboro while on your trip. In Lexington plan to stop at Blue Lab Brewing Company and Devils Backbone Outpost Brewery and Tap Room. In Harrisonburg there is Brothers Craft Brewing, Pale Fire Brewing Co., Three Notch'd Brewing Company, and Wolfe Street Brewing company. In Waynesboro plan to visit Seven Arrows Brewing, Basic City Beer Co., and Stable Craft Brewing. Staunton is home to Redbeard Brewing Company, Queen City and Skipping Rock Beer Company.
Each of the unique breweries host events and food trucks often at their locations throughout the year. There is virtually always something going on at each of these great stops along the trail. Plan to tour and visit some of the breweries along the Shenandoah Beerwerks Trail and be sure to eat some local delicious food as well. If you are looking for a real treat, check out Polyface Farm and shop the farm store located on site for sustainably grown deliciousness. The farm is ran by Joel Salatin, an avid alternative food production advocate who has been featured in films and books on the topic including Food, Inc. and Omnivore's Dilemma.
Learn more about fun things to do in the Shenandoah Valley in and around Sherando Lake and the nearby towns. We invite you to escape from it all and book one of our Virginia Cabin Rentals for a fun getaway. We feature cabins of all sizes and are pet friendly! We would love to host your and your loved ones for a fun filled adventure. If you love scenic beauty, and the outdoors there is so much to enjoy. If you are a history buff, you'll relish the opportunities of many historic places that you can tour. If you are a foodie, be sure to check out this great beer trail.
Click on the links below for more information: