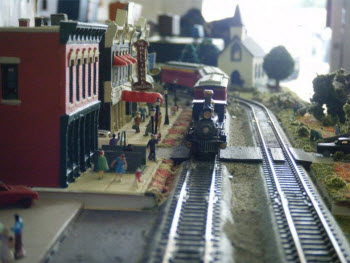 Calling aboard all train and history enthusiasts, this September 8, Augusta County Railroad Museum has some surprises just for you.
Trains Helped Build America
"The historical and cultural foundations of the Nation should be preserved as a living part of our community life and development to give a sense of orientation to the American people." -US Code, Title 16: Conservation.
While lodging at Cabin Creekwood you are soaking in the sounds of nature, the sights of trees, and the relaxation of unplugging from the busyness of life—and yet only fifteen minutes away sits a town full of modern day amenities, like museums pulsing with hands-on history.
One of these museums is The Augusta County Railroad Museum. Two times each month, on the second and the last Saturday, this historical center opens its doors to the public for an open house.
At first entrance, one will only see fast moving trains, 'hoot hoot' they blow, and just as you think the parallel tracks are too close and the trains will collide– they fly right past one another. If fast moving action isn't your cup of tea, you will be drawn to the detailed town sceneries the trains are storming through.
These member operated trains run on 4 different tracks, which are a variety of shapes and measurements. This museum is not only full of play trains; it also showcases train books, back issue magazines, and photos, along with other historical artifacts related to railroads.
Trains are the backbone of America, yet as we turn to more modern methods of transportation, historians are concerned we will forget about the trains, rip up the tracks and never look back. Others argue the impossibility of this; trains are embedded in popular culture. In fact, after working at a toy store that was 60% dedicated to Thomas the Train memorabilia—I can vouch for the gaga mentality kids have towards trains!
A fun trip for the whole family, the Augusta County Railroad Museum will be an educational trip back in time. Only unlike some history lessons, this one will be full of loud noises, excitement, and never-ending fun.
Open from 11:00 to 3:00 the second and last Saturdays of each month. For more information visit http://www.trainweb.org/augustarailva/.
Article by Becky Bruce