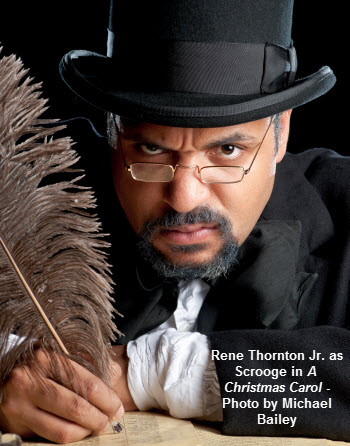 Although the main characters are rather unfriendly and frightening, a nasty old scrooge and his team of ghosts, the very sounds of "A Christmas Carol" will bring back memories of your childhood Christmases. There's nothing like this classic tale to get you in the mood for the holidays! When Charles Dickens wrote this story he had no idea it would live throughout so many generations, as if we are all unable to let it retire in exchange for something new. This story is truly one of a kind and anything but 'trendy.' Get ready to laugh, and perhaps even cry, as you watch Ebenezer Scrooge warm up to the holidays as he travels through time with the 3 Ghosts of Christmas. Seeing a classic piece such as this will stay with you for years to come, see why past audiences say A Christmas Carol is a must-see production, especially at Blackfriar's Playhouse.
The Playhouse
Every year since the Playhouse opened its doors in 2001, A Christmas Carol has been put into production; join the long-standing tradition and you'll be glad you did. Director Jim Warren is so sure you will enjoy the production that he has faced the scrutiny of others, some urging him to pick something new, without trepidation, deciding to once again put on what many agree is the best holiday themed play of all time.
There's no better place to see a classic play than at Blackfriar's, for the goal of the Playhouse has always been to preserve the past. Therefore, the entire layout of the small, intimate theater is a tribute to the style of theaters around when Shakespeare's plays were originally put on. At Blackfriar's one will enjoy a much closer connection to the actors and actresses on stage, partially because the lighting on both the audience and the stage remains on at all times, severing the usual distance mandated in modern theaters. This makes for a more involved theatrical experience, something attendees can't get enough of!
The Cast
Jim Warren, the director of the show, has picked a winning cast; including Rene Thornton Jr., who will be playing Ebenezer Scrooge once again this year—he did so well in previous castings, he has been begged back again! Rene has been casted in over 60 productions, playing a total of 85+ characters with precision, capturing the hearts of audiences time and time again. His resume speaks for itself, for why else would he be asked back?
Bring Along the Whole Family
Plays can often seem 'too serious' a place for kids to be brought along but in the case of this play, even kids will be delighted by the mystical scenes all throughout the live show. Plus, in elementary school this play is often performed by and for the children. Enlighten their imagination and show them something they are sure to see in school. The only thing the cast and crew ask of you is that you warn your children about the creepy ghosts and loud rattling chains that will be on stage, they don't want to frighten anyone—besides Ebenezer that is!
Throw on your good shoes, gather up the gang, and see a show worth talking about! The holiday season will feel like it's truly kicked off once you exit the theater with Ebenezer Scrooge on your mind! This Charles Dickens classic has been recognized for years, as it will likely continue to be, yet to see it performed in a way that really connects Dickens to the play will make it all the more special.
The play is being performed today through December 27. To reserve tickets, check out The Playhouse official webpage for A Christmas Carol.