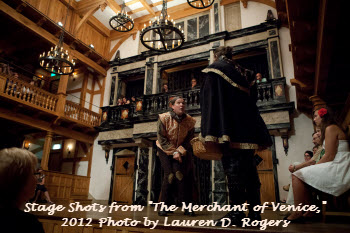 There is nothing quite as special as seeing a live play. The close contact you are able to make with the actors and actresses is unparalleled to watching scenes unfold on a screen. Yet the way that we view theater today is much different than it once was watched—back when Shakespeare was still alive, putting on shows was a more personal, raw experience.
People come to Staunton, Virginia just to see this playhouse, recreated to look just like the theater originally built by Shakespeare alongside his colleagues many years ago. Instead of sitting in a dark audience- as per usual, this theater bathes both the stage and the audience in the same lighting. It seems off-putting at first, but those that attend agree it adds to the experience by making one feel less like a viewer and more a part of the action. The shiny wood balconies and rows of polished benches seat up to 300 people per production.
Shakespeare is something we all have to read in high school and some people undeniably find the literature boring and un-relatable, especially with the foreign dialect and "where art thou…" that seem more comical in the modern world than romantic. Yet as we get older, it's suggested that we give Shakespeare another chance, for his work is truly one of a kind. The mysteries and wonders surrounding Shakespeare's creativity come alive when you watch his plays in the environment they were originally performed in. Blackfriars Playhouse is known for being one of the best and most accurate re-creations of its kind.
Upcoming Plays at Blackfriars Playhouse
The Blackfriars Playhouse is "Shamelessly entertaining" – The Washington Post
The Merchant of Venice
June 12 – November 23
When one man isn't able to pay back the loan for his bride, a pound of flesh is demanded in place. Enjoy this romantic comedy that although rather dated, still rings relevant today.
Cymbeline
September 4 – November 25
With a sprinkle of magic, a whole lot of humor, and a punch of violence—this play is sure to catch the attention of all audiences.
The Lion in the Winter
June 19 – November 24
The prequel to King John, watch King Henry II and Queen Eleanor, two of the most all-time favorite rulers, live life with their 3 sons—all eager to score the title to their parent's crown.
King John
September 20 – November 24
King John is recognized among one of the more entertaining Shakespeare plays that you can currently see at Blackfriars. Watch King John attempt to get the crown from his family once and for all, in this sequel to, The Lion in the Winter. If you get a chance to see both of these plays here, you're in luck—the same great cast carries over, making the play even more realistic.
Twelfth Night
April 10 – June 16
Also known as, What You Will, this comedy revolves around the ending of another Holiday season—a festive and rather turbulent time for many. Over-indulge on this entertaining play.
The Duchess of Malfi
Sep 6 – November 24
Originally acted out in 1614, this play is not written by Shakespeare but it rings extremely similar to his style.
The Two Gentlemen of Verona
July 8 – November 23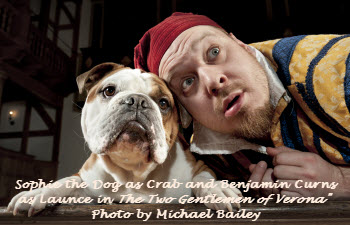 With a rather small cast, this isn't always the most popular play by Shakespeare but it is well acted and a great set up for many of the other themes Shakespeare uses in the rest of his writing. If you are a fan of Shakespeare's work this play is highly recommended, as it's one of his originals. A great look at the heart behind friendship and love—of course with a whole lot of laughs.
Love's Labour's Lost
Apr 12 – June 15
Packed with fun twists and an unexpected finale, there are multiple hilarious themes underlying this play. The unique style of Love's Labour's Lost has kept it from becoming as popular as some of Shakespeare's other works but the interesting and in-depth concepts behind the play are thought to have been written like this for someone in particular: the Inns of Court—barristers students that were attending school and living on campus.
For more information and to plan your genuine Shakespeare experience, visit the official website here, The American Shakespeare Center.