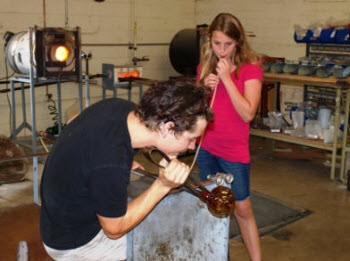 Glass is used for so many different things, from church windows to cars; glass is both a functional material and a materialistic one. In Italy there are many small vendors that sell gorgeous glass pieces, from rings to small heart statues. But you don't have to go all the way to Italy to get your hands on the intricate beauty of blown glass, at Sunspots you can do one better—create your own design so that you can get exactly what you want.
Alongside a skilled glass blower, you can use your breath and creativity to create a masterpiece. Sunspots Glass Blowing, located in Virginia's historic Staunton, offers a service like no other!
The Art of Glass-Blowing
In nature it takes a volcanic eruption or a lightning striking sand to create glass. It's estimated that around 2000 BC. Humans started blowing their own glass. The task is so detailed and extensive that back in the day men had to study for 15 years under a pro as an apprentice. Exercising an assortment of medieval looking tools and artistic style, glass blowers use extreme heat to melt down glass so they can mold it into a new form.
Watching a glass blower at work is incredible enough, actually participating in the process is stellar. Glass can be morphed into any shape—but with your help, it can do more than just please the eye.
Because you are involved in the process from the start to the end, you will be able to personalize the glass. This can be great for romantics, families, and friends because everyone likes a piece that is special to them. I remember a friend once gifted me a glass ring, although it wasn't expensive there was something so special about it. Simple designs look so much more complex when they are made out of glass.
No matter what you chose to design, you will be making lifelong memories in the process. Kids can create pieces for their rooms that they will have until they move out for college—when you create something the memories of that day become more solidified. Make a personal souvenir that never goes out of style and will always remind you of a special day.
Is it Safe?
The idea of hot glass often frightens people; it seems dangerous and evasive—perhaps even really hot. In this controlled, safe environment you are going to feel very comfortable. In fact, visitors only have to be 5 years old to help create their own ornament.
Glass blowing gives off no foul odors nor emits any toxic pollutants, so you can enjoy the experience without any bad smells or harmful effects to your lungs, brain, or body.
On Site Shopping
If you'd rather blow money opposed to glass, enjoy the pre-made goodies in the gift shop. There are home and garden pieces, bird feeders, vases, garden art, oil candles, and even some perfume bottles. Plus, all of the glass and cooper for sale is made right in the Staunton studio. There is a plethora of American made art, jewelry, handbags, and more to discover as well.
Sunspots is open 7 days a week with live glass blowing demonstrations held every day. Although if you plan on blowing your own ornament they suggest calling ahead to make sure a professional glass blower is available when you arrive.
Hours of Operation:
Mon- Sat: 10:00 – 6:00
Sunday: 11:30 – 5:00
To plan your glass-blowing adventure, visit the Sunspots website here.