Cabin Creekwood features rustic style Blue Ridge Cabin Rentals in the heart of Virginia's Shenandoah Valley. We are less than 3 hours away from our nation's capital and located right amidst all of the Sherando Lake beauty in the George Washington National Forest. Make plans to stay with us and enjoy a summer getaway and plan to visit historic locales such as Thomas Jefferson's Monticello. Nearby Waynesboro Virginia, is also filled with several homes and locales on the National Historic Registry with key points of interest being Fairfax Hall, the Plumb House Museum, Fishburne Military School, and the Tree Streets Historic District. We are one of the few vacation rentals in the area that feature Blue Ridge Cabin Rentals with pool. Our 20 x 40 in ground, concrete pool offers plenty of respite on the warmer days of summer. The pool is no longer available for cabin guests.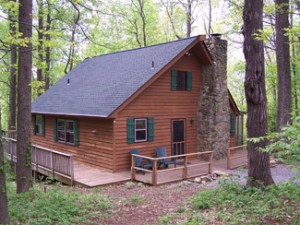 We are a Blue Ridge Cabin rental resort for the whole family to enjoy. Most of our rentals are pet friendly Blue Ridge Rentals as well! Bring along your furry best friend! We feature packages for family getaways, hiking trips to some of the most beautiful areas of the Shenandoah Valley, and fly fishing family vacations as well. If you are looking for a family friendly woodland nature place that is located away from all of the stresses of the suburbs and city, WE ARE IT! Our prices for lodging and other activity add-ons are an amazing value.
Would you like to request an information packet about our Sherando Lake resort and Blue Ridge Mountain Rentals with pool? Click here to be directed to the request for information form. Or, click over and start choosing your Blue Ridge Cabin Rental by simply clicking on 'Cabins'. We have 9 cabins to choose from including cabins with 2 and 3 bedrooms and lots of space for everyone!