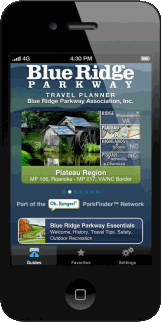 Are you prepared for all Blue Ridge Parkway has to offer? Tucked in the hills of Shenandoah, Virginia and stretching clear into North Carolina, this stunning park has so much to offer. The problem that many face is fitting it all in during one visit.
In order to plan your ultimate vacation I suggest downloading the Blue Ridge Parkway Travel Planning App for your iPad, iPhone, or Android device; this technology will provide you nearly everything you need to know from trails, to shops, to breathtaking sceneries—discover the sights you don't want to miss.
While many might argue, why download an app when most content and information is easily and freely accessed via Google? I understand this concern, and agree that in order for an informational app to be successful it has to be really well laid out. In terms of functionality, I give this app a solid thumbs up, it's as simple to figure out as it is informative.
In fact, within only a few minutes of playing on the app I'd already uncovered many interesting tidbits about Blue Ridge Parkway. For instance, did you know that even through October and into the beginning of November there are a number of glorious flowers still in bloom? Such as the Black-Eyed Susan and pink Turtleheads. Or, perhaps if you're out exploring the park, you will notice dead trees littering the scenery, prompting you to wonder, 'what's killing these trees?' With a simple scroll, I found the answer at my fingertips; it's in fact an insect called the Hemlock Woolly Adelgid that is destroying the Hemlock Trees native to this park.
The Basics: What this App Offers
Well-planned key placement aids the overall success of this App, for anyone downloading the application to their iPhone, you will find comfort in the center bottom button that takes you back to the original front page. There are a number of categories to pick from, each one lined up at the top of the app for quick access. For even faster accessibility, you can store your favorite articles under 'My Park' by clicking one button on the right corner; this is beneficial because there is a lot on this app!
For everything else, there is a designated section—such as the articles relative to Blue Ridge are arranged under ABC in alphabetical order. Of all the sections, this one can get a bit overwhelming, as there are a lot of articles stored here. To know where to go and what to do while at the park, check out the Guide and Info pages which detail everything from the variety of attractions and what they have to offer, to where bathrooms are along the way. Of course, a large attraction to Blue Ridge rests in the stunning beauty found at every overlook, path, and stretch of trail. Take in all of the most raved-about views in categorized pictures, located under the Gallery link. A photograph could change your entire trip; perhaps one location in particular is too glorious to miss—but you might otherwise not even know it exists.
The Pros
Have you ever noticed that reading a book before seeing the movie makes the movie more exciting? That's how anything is, the more we know about someone or something, the more thrilling actually meeting or witnessing them becomes. Don't cut yourself short; find out exactly how to make the most of your Blue Ridge expedition with this free application.
It would take weeks to thoroughly explore all that Blue Ridge has to offer; if you're on limited time, it's highly advised that you check out what you want to do before you go. The only issue with depending solely on Google for this information is that you can't always find everything, especially if you don't know what you're looking for. This app includes all of the park's attractions; don't let an exquisite experience get left off your list.
Not only is the app quick to download and easy to access, it also offers you information no matter how far away from Internet access you might be. Our handy-dandy smart phones can be shady in remote locations; this app stores all of the information right on your phone, no Internet connection necessary.
Stay safe and comfortable with telling descriptions for each vastly unique season in the park, thus helping you decide exactly what to wear and bring. Also, all locations are listed by trail post, helping you discover exactly what you need whatever milepost you happen to be at!
Downsides
In total, there are 8 other parks that can be downloaded onto this app, only these are not free—just one park is complimentary. If you plan on seeing all 9 sights, you can buy the whole gaggle for $9.99, or you can buy them individually as needed. Yet, I should make it very clear that to only view one park—such as Blue Ridge Parkway—it is free to download and fully utilize this app.
My major wish when using this app is that there was a question button. It would be nice to search for an exact question or keyword, as opposed to surfing through lots of information.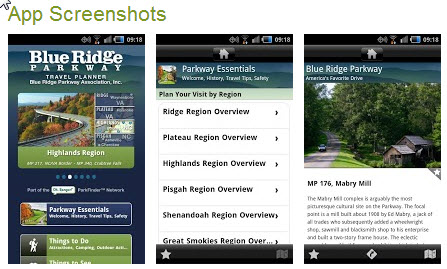 Overall, this app is extremely useful in planning a trip to Blue Ridge Parkway, and at zero cost you have nothing to lose. It is available for both Android and Apple devices.
To learn more about the Blue Ridge Parkway Travel Planning App, and to download your free application, visit the official page here.