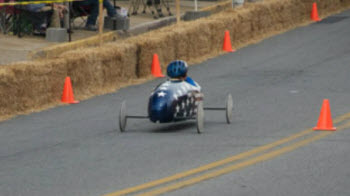 The Blue Ridge Soap Box Derby is scheduled to be held on Saturday, May 19 in downtown Waynesboro. This event began in 1962, when it was known as the Waynesboro Soap Box Derby. In 1994, it was renamed to the Blue Ridge Classic. Called "the greatest amateur racing event in the world," the All-American Soap Box Derby has the goals of teaching children workmanship, perseverance, and the spirit of competition. All across America, children spend time together with family and other mentors building these soap box cars, and then come together on race day to compete.
Boys and girls from age 7 to 17 come to compete in this family friendly event. Main Street is closed off, and the sidewalks are lined with spectators cheering on their favorite car and driver.
Come on out, support the local boys and girls, and enjoy the parade-like atmosphere.
For more information, visit http://www.blueridgesoapboxderby.com.