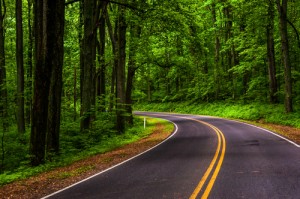 Typically the BMW Motorcycle Owners of America Sherando Lake Rally takes place over Labor Day weekend, but this year's event, will take place in August due to scheduling conflicts with the park service. The 2016 rally will take place August 26, 27, and 28. The event is held by the RBMWR at the Sherando Lake Recreation Area off the Blue Ridge Parkway.
Motorcyclists love our area because of the scenic and challenging riding routes in the Shenandoah Valley such as Skyline Drive and the Blue Ridge Parkway. Also historic attractions such as Monticello, Crabtree Falls, Goshen Pass, the Natural Bridge and other places draw motorcyclists as well because of their great travel routes and stopover destinations.
If you are planning to come to Sherando Lake for the rally, check out the cabins in Virginia at Cabin Creekwood. We offer a great place to stay just near the campground and recreation area where the rally is held. You can spend your evenings and afternoons sitting out by the river, or exploring the trails, or riding the routes after the big rally. Our rates are excellent and we have several wonderful amenities including grills and an in-ground pool! We'd love to welcome the Richmond BMW Riders social club, as well as other motorcyclists coming to the Shenandoah Valley to explore our great roads and routes.