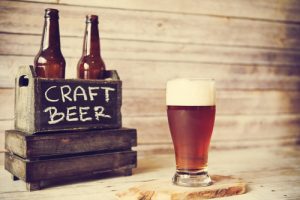 Cabin Creekwood, the premier cabin rentals in Virginia, is located in a region where the craft beer scene is soaring. Many of the local breweries in the areas in and around Lyndhurst, Virginia are just short drives away (but never drink and drive!). These breweries have a little something for everyone. Whether you're a fan of pilsners or porters, you are sure to find something that pleases your palate. On weekends, many have live music and some have yard game such as corn hole or jumbo jenga.
In the top few of our many favorites is Wild Wolf Brewing in Nellysford, about a 20 minute drive from Cabin Creekwood. Wild Wolf has a great variety of beer spanning from light to dark. Wild Wolf also has a restaurant that boasts a versatile menu including everything from tacos to shrimp and grits. With live music offered at least once a weekend, Wild Wolf Brewing is sure to be a hit for a great evening hangout.
Another of our favorite breweries is Seven Arrows Brewing Company. This award winning brewery is a bit more unique than most breweries in that, though there is no restaurant, food trucks frequent the grounds and you are welcome to bring your own food. Their award winning beers on tap can be taken home in growlers and some in cans. You can even catch the occasional yoga class before you enjoy your refreshing brew. Seven Arrows Brewing Company is located in Waynesboro, Virginia, about 25 minutes from Cabin Creekwood.
Twenty five minutes in a different direction in Afton, Virginia, Blue Mountain Brewery is another great contender for favorite go-to spot. They also have a second location, the Blue Mountain Barrel House in Arrington, 10 minutes farther down the road. Blue Mountain Brewery is a wonderfully airy hang out, great for sunny days outdoors, or if you're hungry, bring the family in for a fantastic farm-to-table meal. Their brewery is surrounded by fields of hops, adding to the brewery atmosphere.
Whether you're looking for a dive-style gastropub or an airy open hangout, the breweries around Cabin Creekwood's cabin rentals in Virginia are sure to be a fun adventure for folks of all ages. Be sure to visit one – or a few – when you visit us here at Cabin Creekwood.