Have some vacation days left and want to take a trip and escape to the wilderness? Sherando Lake and the Shenandoah Valley are calling your name. We have 7 cabins available for the dates of Wednesday and Thursday this week (Oct. 28th and 29th, 2015)  at some really low mid-week rates. We'd love to host you and your family, individually. Get away for those two days and head back home for some Halloween fun. We are fully booked for the weekend of Halloween this year and we can't wait for those coming up to stay with us to enjoy a fun filled Shenandoah getaway.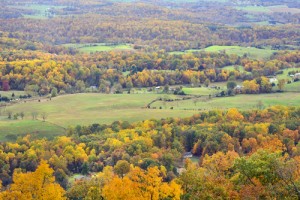 Our cabin rentals in Virginia are located minutes from Sherando Lake and all of the adventures that Lyndhurst has to offer. The Sherando Lake Recreation area is a stone's throw from our accommodations. The beauty and scenery found this season all around our cabins is truly something out of a postcard. We have had a great 'leaf' season. As it winds down, we have more availability and occupancy. It's a great time to catch some mid-week deals and take a trip for a few days. We are a convenient distance from Washington D.C. and it's suburbs, Atlanta, Chattanooga, and Charlotte.
If you want to see the falling leaves and the myriad of fall colors, you still have a shot in early November before all of the leaves completely fall from the tree branches. We have 3 cabins available right now for the first dates in November, which would be right at the end of the leaf viewing time period. Edgewood Cabin features great deals on cabin rentals in Virginia at just $129 per night starting November 9th. That's an incredible savings for this time of year. Mountain Cabin is also available for this rate and time period. The lowest rate available in early November is on our one bedroom Virginia cabin rental, Barnwood Cabin, which is $119 per night starting November 9th as well.