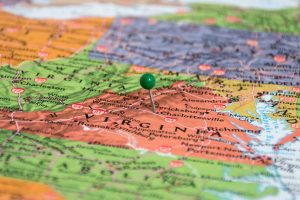 Cabin Creekwood is a perfect location for a vacation getaway in our cabin rentals in Virginia. When you stay with us, you will find tranquility and relaxation. Located in Lyndhurst, Virginia in the beautiful Shenandoah region, we separate ourselves from the stress of everyday life. Our cabins are a step back in time when you weren't bombarded with bad news everywhere. Just a short drive away, however, are many towns with lots to explore.
Charlottesville, Virginia is just a short drive away. Known as C'ville, or Hooville after the student who attends the University of Virginia, Charlottesville is thriving with history. With many things to do and see, you could easily make a day trip out of it. Between the colonial architecture, amazing restaurants, and awesome bars, it's hard to decide on how to spend your day. Ask us at Cabin Creekwood while you are visiting our cabin rentals in Virginia and we can make some recommendations.
The top attraction in Charlottesville is Monticello, the home of Thomas Jefferson. Monticello is open year round. If you visit the home of our nation's 3rd president, be sure to stop by Michie Tavern, a 200 year old social hub of Albermarle County. Michie Tavern serves breakfast and lunch, and after, you could stop by Jefferson Vineyards for a taste of Virginia's fine wine. Located where Thomas Jefferson and Philip Mazzei first began the concepts for the American wine revolution, Jefferson Vineyards is sure to have a little something for everyone.
We could go on forever on the adventures of Charlottesville, Virginia. When you stay with us at Cabin Creekwood, be sure to visit this quaint, vibrant town. When you are finished exploring, return back to our cabin rentals in Virginia for some much needed down time and soak in some peace. Call us today to reserve your rental.