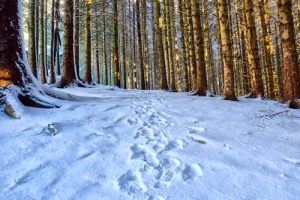 When you need a break from reality and a moment to breathe, visit us at Cabin Creekwood. Located in Lyndhurst, VA, Cabin Creekwood is well loved by our guests as the best cabins in Virginia. A short drive from Charlottesville, Waynesboro, and Staunton, Cabin Creekwood is a vacation destination that is sure to please everyone in the family. There is always something to do year-round, from hiking the nearby Appalachian Trail to apple orchard trips.
Wintergreen Resort lies about 25 minutes from Cabin Creekwood. In the winter, it's a great place to go for fun and adventure. With numerous ski slopes, snow tubing courses, and other winter activities, Wintergreen Resort is one of the best places in the area to take a day trip. Wintergreen even has indoor amenities for those who enjoy warmer temperatures. The spa at Wintergreen is top notch and includes everything from nail care to facials and massages for mothers-to-be. We at Cabin Creekwood highly recommend a day trip to Wintergreen Resort.
If you are more of a fan of foodie heaven, downtown Charlottesville is a quaint and fun place for you to explore. Charlottesville's downtown mall has a plethora of creative restaurants and bars. Christian's Pizza is a fun adventure for a family. With specialty pizza available by the slice, we guarantee you will find anything on a pizza you'd like. If you're looking for something slightly cozier, The Alley Light or The Whiskey Jar are both cozy bars with creative food choices and craft cocktails. Perfect for date night.
We are always glad to give suggestions and recommendations when you visit our cabins in Virginia. Call us today to make your reservation and find out what adventures you are sure to get into when you visit Cabin Creekwood. We hope to see you soon!