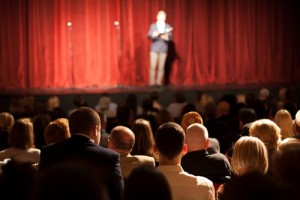 Cabin Creekwood cabins in Virginia are very popular with honeymooners and couples looking for a romantic getaway. Our cabins are perfect for those who want a little serenity and there are plenty of "date night" activities to do at any point during the week. This month, we came across a fantastic event for those couples who like to laugh.
On October 29th, the Wayne Theatre in Waynesboro will be hosting comedians Brett Leake and Tony Deyo. Their act is a clean stand-up comedy routine. Brett Leake resides in central Virginia, not too far from the show. He got his start in comedy in 1983 and has been performing since. Leake has a type of muscular dystrophy, and prides himself on his "sit down" comedy. He has performed at many notable places, including the Smithsonian and the Kennedy center. In 1991 he became the first comedian with a physical disability to be on The Tonight Show.
Tony Deyo, formerly a professional symphony musician, is known for his sharp, quick material. With his near-perfect comedic timing, NYC's Village Voice calls him "one of the tightest joke writers in the business." He has performed on CONAN, The Late Late Show with Craig Ferguson, Gotham Comedy live, and more. His comedy is recognized on the top comedy charts by Billboard Magazine. Deyo's comedy can be heard on his own show on SiriusXM Satellite Radio.
The show starts at 7pm at the Wayne Theatre. Tickets are $17 and can be bought online or at the box office. For more information on the comedians, visit www.brettleake.com or tonydeyo.com
Call us at Cabin Creekwood to experience the best of cabins in Virginia with your loved one. We guarantee you will fall in love with our remote location and the serenity our accommodations provide. We look forward to seeing you soon!