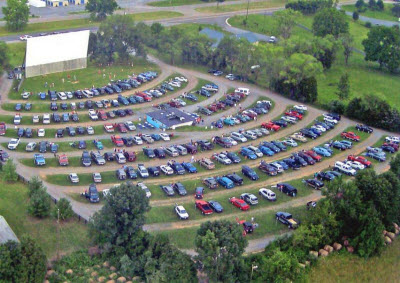 One of the Shenandoah Valley's favorite places for family fun is Hull's Drive-in Theater in historic Lexington. The drive-in has upheld a long-standing reputation for providing affordable, family-friendly entertainment for all ages. For the cost of admission you can enjoy a double feature; sitting either inside your car or in the open air, under the stars. The atmosphere at Hull's is a relaxed, laid back feeling that has all the ambience of a Labor Day cookout. With all the loyal patrons that come every weekend, it is hard to believe that the time-honored establishment was ever in danger of closing its gate for good.
The drive-in was built on leased land by W.C. Atkins in 1950, it was first known as The Lee Drive-in Theater. Atkins ran the drive-in until 1957 when Sebert W. Hull bought the business, since then it has been known as Hull's Drive-In. Hull ran the outdoor theater for 41 years until his passing in 1998; it was then bought by adjacent business owner, W.D. Goad. Repairing and maintaining the antiquated facilities proved to be an undertaking requiring full attention from the business owner. In 1999, Goad sought a buyer that could attend to the necessary upgrades and run the theater in keeping with the standards and integrity of Mr. Hull's enduring legacy.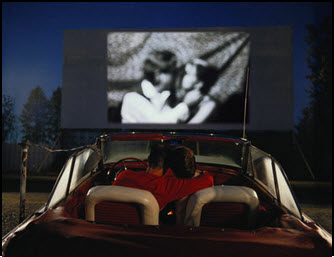 After failing to open at the start of the 2000 season, a concerned group of devoted drive-in supporters got together and formed the "Hull's Angels", a non-profit organization dedicated to saving the theater. Hull's Angels was soon granted government approval to become the nation's first non-profit drive-in.
It takes an army of volunteer staff to keep the drive-in running. The people who donate their time to the theater are all from various backgrounds lending their different talents and abilities to help maintain the drive-in. The volunteers have day jobs in a variety of different industries, their work experience tends to come in handy sooner or later.
Nelson Schmidt has been bringing his family to Hull's for years. Two years ago, they were waiting for the movie to begin when an announcement about some technical difficulties was made. Schmidt, an electrical engineer, went over to see if there was something he could do to help. A projector bulb had blown and Schmidt was able to help with the problem. Schmidt has been volunteering at Hull's ever since, today he is the chair of the operations committee. When asked what he likes about Hull's drive-in, Schmidt smiled broadly and said, "Seeing all the people having a good time." When asked why he likes volunteering, Schmidt sums up the spirit of the Hull's Angels with his reply, "It's one way I give back… I like when there is something I can do to help out, then (I get to) see people enjoying it right away."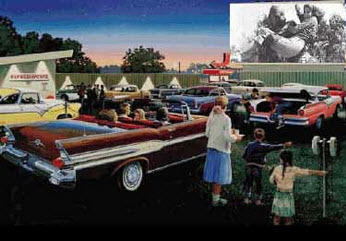 The vibe at Hull's is always relaxed and friendly. Conversations begin to flow when people are seated close, waiting for the show to start. Families with young kids like to get to the drive-in early to get a spot up front. The lawn area, between the movie screen and first row, is where kids from different towns meet for the first time and play as if they have always known each other. There will be kids playing catch, one or two games of tag going on, and teenagers will introduce themselves and hang out. Movie-goers without kids also come to the outdoor theater to experience the novelty of the drive-in, to enjoy the picnic-like atmosphere and also for the bargain double feature.
Hull's Drive-in appeals movie fans of every kind. At the affordable price of $7.00 per adult and free admission for kids, Hull's is a good deal for all. The drive-in's concession stand sells food hot off the grill with a larger menu than most multiplex theaters. While waiting for the show, restored vintage speakers and the drive-in's own radio station plays classic 1950's music adding to the neighborly mood reminiscent of days gone by. The movies that play at the drive-in are current features, selected to be appropriate for a family oriented audience. Hull's Drive-In is a true gift to the community with its earnest and celebrated reputation of providing wholesome entertainment. It's always a good time at Hull's.
For a schedule of upcoming movies, visit their website at http://www.hullsdrivein.com/.