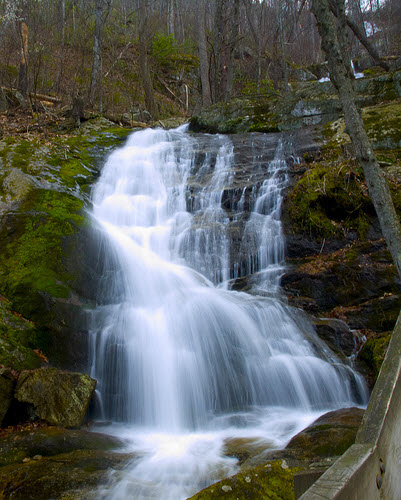 "Crabtree Falls is arguably the most beautiful set of waterfalls in Virginia." -Hiking Upward.com
Crabtree Falls is a gorgeous 3-mile hike that offers up-close and personal views of four separate cascading waterfalls, as well as the Tye River Valley. Located in nearby Nelson County, this family-friendly atmosphere is open daily, from dusk to dawn. With only a fee for parking, these breathtakingly loud waterfalls are practically free to enjoy.
In order to make the best of your trip to Crabtree Falls, come prepared! One way to do so is to take notes from those that have already visited. Plucked from reviews on the web, here's a collection of what people are saying about Crabtree Falls.
1. Avoid Bug Bites
"Beautiful falls, shady trail so bug spray is probably more likely to help your comfort than sunscreen." – Steve F (Yelp Reviews)
Although I still recommend bringing along that sunscreen, bug spray is easily forgettable for people who spend their lives in cities and suburbs. There is something about perspiration that gets bugs going crazy, and hiking nearly 3 miles—you're going to get hot, which means you're going to start sweating! Without bug spray, you could become a five-star buffet for a swarm of tag-along bugs.
2. Be Prepared for Seasons
"A must see in every season." – Mimi1971 (tripadvisor.com)
The unique beauty each season offers comes with dramatic changes in the weather. Come prepared for the appropriate season! I even suggest checking the weather online before you decide what to wear. Keep in mind that you are going to be directly exposed to the elements for a long period of time.
As one review warns, when it rains it gets very muddy. Big rain boots could be ideal, just make sure your rubber soles have good traction and are comfortable enough for hiking.
3. Pack a picnic
"There are picnic tables around the area near the creek that the falls flow into for a nice lunch." –Chris R (Yelp Reviews)
"Have to climb to the top! Totally amazing. Have a picnic along the way." – Samtrip (tripadvisor.com)
More than two previous visitors have left reviews that suggest a picnic along the way. On a romantic date or out with the family, this hike can work up an appetite. Not to mention, can you imagine how much a restaurant that offered these types of views would cost? Enjoy the most splendid dining without any cost, besides the labor of packing (and carrying) your own food that is! Enjoy the assortment of benches and look outs to choose from, pick wisely for this once-in-a-lifetime picnic.
4. Wear the Right Shoes
"This trail is beautiful. It is pretty steep but well worth it once you get to the top." – mirzamom (Reviews at trails.com)
By definition, views come with a cost. At Crabtree Falls, you can't depend on your car to get you up to the top so you'll have to pay the toll with your feet instead. Many visitors claim that an entire mile of the hike is completely uphill. Therefore, wearing the right shoes is a must! Come prepared to hike, not play in a grassy park. On the bright side, as Adrienne from Maryland says, "it's a good workout!"
Also, check to make sure your kids are wearing socks before you leave, that way none of them will get blisters halfway up the Falls.
5. Don't Leave Anyone Behind
"Great Family Hike. A friend and I brought our young daughters here over the weekend for their first "real" hike. It was a great experience and the falls are so beautiful." –Livin4Vacti0n (tripadvisor.com)
While kids love waterfalls just as much as adults, the elderly can enjoy at least one of the scenic overlooks too. The first waterfall conveniently crashes only a few steps away from the parking lot. Even the weakest of legs can make it this far, enjoying one of the four spectacular waterfalls.
Warning, especially for those bringing young children, the rocks that are located all around the waterfalls are not for climbing. Do not climb over or stand on them, covered in a slippery algae they have knocked too many unsuspecting visitors to their deaths. One wrong step and that algae will knock anyone off of their feet, straight into the plunging waters below.
6. Early Bird Gets the Worm
"Go very early before the crowds arrive and you will be rewarded with great views, a few wild animal sightings, and peaceful quiet." –William B. (Yelp Reviews)
In nature, mornings are so special; so innocent and pure, as the little animals are all waking up, rushing around for their breakfast in the brisk chill. Crabtree Falls is a popular paradise, a place that can get very full by the middle of the day. As William suggests, come early to beat the crowds. By noon, even if you only see a few people passing along the trail, there's still a constant stream of feet pounding through the ecosystem, scaring most animals off the trails. Beat the crowd and you will see sights only reserved for those that arrive before the masses.
For more information on Crabtree Falls, click here.
Photo courtesy of Watson Media.