Sprawled out over one local destination, sits two pristine golf courses– Devils Knob and Stoney Creek. Located at Virginia's Wintergreen Golf Resort, these nationally ranked courses are notorious for very different reasons.
Just as both courses offer something new, so does the passing of each season– at certain times of the year one can enjoy a ski down the slopes before their round of golf. During your next visit to Virginia, I suggest sampling both of these stunning courses.
Devils Knob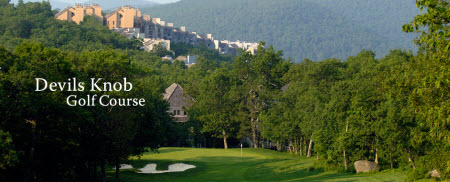 Open mid April- late October
Elevated 3,850 feet, this mountainside golf course lives up to its name– it can be quite a challenge! There was a time when people actually doubted this golf course could ever exist. Thanks to Dan and Ellis Maples, it does. When asked about building the course Dan admits, "It was pretty treacherous…. But it worked out beautifully." Practically hanging in the clouds, every hole offers a fresh view of the Shenandoah and Rockfish Valleys below.
Despite what many might expect, this course was designed to please all skill levels. Save your energy for teeing-off, Devils Knob might be built on a mountain but the terrain is free of steep inclines. This is not a treacherous hike; it's a relaxing round of golf.
Besides the breathtaking views and iconic location, Devils Knob is famous for its perfect weather. Known as Virginia's coolest golf course, it's an average of 76 degrees in the summer—much cooler than any other golf course in Virginia will be. Golf enthusiasts also love the fact that due to the thin air quality up here, you don't have to change your golf clubs that often.
Recognized as one of Virginia's best courses time and time again, Devil's Knob entertains more than just fields of green. Find everything from golfing supplies to souvenirs to food and drinks at the 17,000 sq. ft. clubhouse located on site.
Stoney Creek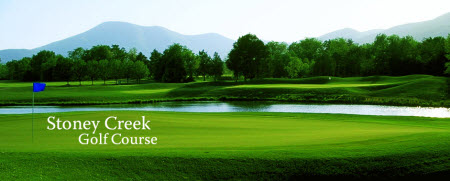 Unlike Devil's Knob, Wintergreen's Stoney Creek course is open year round.
This ideal course flows through a setting that is as relaxing as it is challenging. A little lower on the mountain than its sister-course, Stoney Creek has 27 holes—each one offering a new view of the Rockfish River Valley.
Rees Jones created this course with the theme of nature– seamlessly intertwining wetlands, streams, and a hardwood forest with a golf course. As you swing your club, watch wildlife race right by; peek through the trees and see a world untouched by humanity.
Stoney Creek's link to nature marks this course famous but its diverse nature keeps it popular—anyone from a pro to a beginner can enjoy these greens. The raves and reviews say it all— Conde Nast Traveler magazine has rated Stoney Creek one of their Top 50 Golf Resorts in the World and Golf Digest calls it their 35th best course! This historic and world-renowned location offers golfers' an unmatched experience.
Don't know how to Golf but still want to join in on the fun?
Wintergreen also offers multiple options for the inexperienced golfer. Family fun tee time, for example, is a perfect start to golfing. Golf can seem intimidating which is why many people shy away from ever trying it. Wintergreen will make the most golf-deprived individuals feel comfortable, from lessons to equipment these established pros have got you covered.
To learn about special events, packages, and pricing, visit Wintergreen's website here.