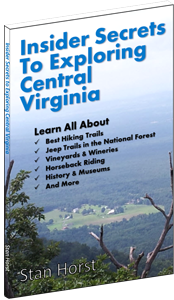 Plan your Central Virginia getaway with this 17-page report on a wide variety of things to see and do. You'll learn about our favorite hiking trails, where to go off-roading with your jeep, what museums are a must-see, and so much more. You'll even get tips on our favorite restaurants.
All you have to do is give me your name, email address, and mailing info. But don't worry, your email is safe with me. I'll never give, sell, or in any other way supply your email to anyone without your permission.
You will get a few emails from me, and you'll be subscribed to our sometimes weekly, sometimes bi-weekly newsletter, but you can unsubscribe from those anytime you want, with no hard feelings.
Of course, I don't think you'll want to unsubscribe. After all, our "Creekwood Vacationer" newsletter is an easy way to keep up with what is happening at Cabin Creekwood and the surrounding area, plus you'll find out about specials that are never publicized anywhere else!
So fill in your name and email, and hit submit. You'll be glad you did.