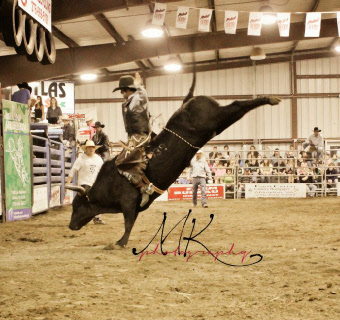 At 7:00 pm on April 13, 2013 in Raphine, Virginia, the Southern Extreme Bull Riding Association (SEBRA) will host an exciting bull riding and barrel racing event for only $15 a person.
About SEBRA – Extreme Bull Riding
Started in 1994 by Professional Bull Riders (PBR) founder Jerome Davis, SEBRA was founded near his home in North Carolina to help young cowboys get started in the sport. Over the years SEBRA has seen an explosion in its growth, sanctioning more than 400 events nationwide, up from 150 events when it started. To this day the association has held true to its roots by running and promoting schools and clinics to help get new bull riders into the sport. Currently there are more than 1,200 cowboys competing in SEBRA-sanctioned events, vying for one of 40 spots in the SEBRA National Finals competing for more than $60,000 in cash and awards.
Bull riding – Understanding the basics
For those not familiar with bull riding, the sport is actually fairly simple to understand. A rider begins by first mounting a bull's back in a small holding pen and also gripping a single flat, braided rope. Once gaining a good grip, the rider signals he is ready, and the bull is released from the holding pen. As the bull bucks wildly around the arena the rider must maintain grip, touching the bull with only his riding hand, and try to stay on the bull's back for a minimum of eight seconds. After eight seconds a buzzer sounds, indicating the rider successfully completed the round. Scoring is on a scale from zero to 100 with rides judged according to various criteria including control, matching the bull's rhythm, and style. There are even specific points given to the bull that are factored in to the rider's score. Many experienced riders score around 75 points; great rides are in the 80s, and exceptional rides score in the 90s.
Clowning around rodeo style
No rodeo is complete without the brave souls of rodeo clowns that help protect fallen bull riders from being trampled. These energetic and fun to watch individuals distract and try to gain the attention of the bull to give the fallen rider time to reach safety. Children, and adults for that matter, will most certainly enjoy the spectacle and entertaining character of the rodeo clowns.
High speed maneuvering – Barrel racing
Originally developed as a rodeo sport for women, this event is also fairly straightforward to understand. In this event, a horse and rider race a cloverleaf-shaped course marked with barrels that the rider must carefully plan and quickly execute for best time. Though slightly confusing, the turns take a figure-eight type of style, with the rider alternating the side it enters the turn. What makes the sport particularly difficult is the fact that the rider has to maintain control of the horse and its speed when entering turns, maximizing speed and efficiency through the turn. Some rules of the sport include not running into or knocking over a barrel as well as completely missing a barrel which lead to time deductions or a total disqualification. Scoring is very simple with time being the measure of success. The time limit is typically 60 seconds, resulting in disqualification. However, most riders have no trouble at all completing the course in much less time than that.
Summary
This bull riding and barrel racing event will definitely be fun for the family, allowing you to watch many young riders take on these massive animals and quick barrel racing course. For further information regarding SEBRA and the upcoming events schedule, visit their website at http://www.gosebra.com/.