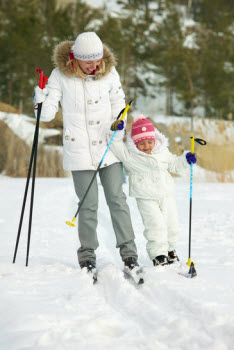 Imagine yourself waking up to snowfall just outside the window, the warm fireplace in your authentic log cabin luring you up and out of bed. It isn't hard to wake up early when you have nothing more than a fun-filled day of skiing planned. As you might already know, ski days tend to start early as the anticipation makes it too hard to wait; thankfully, just down the road from Cabin Creekwood sits one of Virginia's largest ski resorts: Wintergreen. Full of endless slopes, activities, and of course—snow—you will enjoy the best deals on skiing and lodging with one of our two packages. One package is suited for a quick weekend ski trip while the other package fits those seeking a mid-week getaway; both will save you money and add more fun to your trip!
After you have woken up, enjoyed breakfast, and gotten ready for the day, you will find the journey over to the slopes at Wintergreen is extremely quick, as it is only 2.5 miles away from some of our cabins. If you have kids with you, get ready for lots of noise on your way over to the slopes—although the excitement is contagious enough to have the most 'adult' groups feeling like a bunch of kids!
Once you arrive, your lodge and ski package will guarantee you already have your 8- hour lift-tickets ready to go, the only thing standing between you and a major adrenaline rush is ski equipment, that is if you don't have your own. Wintergreen equipment rentals are available for your every last need; gear up and you're ready to enjoy countless hours out in the snow. To someone who has not skied before, 8-hours might seem like too long to spend sliding down the slopes, but once you give it a try you will realize how addictive the rush is!
As you cruise down any number of the marked trails—some open for all beginners and others reserved for the best of the best—the snow will be glistening all around you. When you spot one of your family members or friends gliding down the mountain, you won't be able to contain your laughter— when calling out to one another, just be careful you don't collide! Regardless if you come with friends, family, or for a romantic adventure, time will literally feel like it's flying by—about as fast as you will be speeding down the mountainside!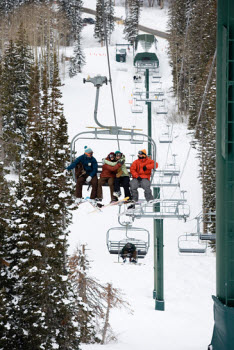 A long day of skiing tires you out more than you'll be expecting, that's why you'll be happy that you are lodging just a short few miles away in your own private cabin. Yet you likely won't notice how tired you are until you scarf down a meal large enough to satisfy the hunger skiing works up.
Anyone who has skied can attest to the soreness that will soon sink in after dinner, an ache from those muscles that typically go unused. These aches will feel a lot better the following day if you keep warm. When we are cold our muscles tense up thus slowing down the healing process. In order to keep warm and relive the memories made throughout the day, cuddle around the fireplace with your loved ones, enjoying that feeling of hospitality usually reserved for home, all the while being on vacation in the heart of the snowcapped mountains.
When we participate in a physical activity outside of our normal everyday environment, we engage our brain in a way that creates lasting memories, the times you hold onto forever— now and again thinking back on with that pleasant inner feeling and the tug of a smile. Discover the possibilities that await you and your loved ones, not only will one of our packages save you money, it will also add more fun and function to your mountain retreat escape. Make the most of the slopes with one of our Wintergreen Ski Packages.