Well, the peak of the fall foliage right around our cabins is starting to fade, although the show isn't completely over yet. There are still quite a few pockets of brilliance to be found by driving along the Blue Ridge Parkway, or a number of other area scenic roads. Just ask, and we'll point you to some of our favorite drives.
So what do we look forward to after the foliage fades and the leaves turn loose?
Hiking in the Fall!
Late autumn is a great time for a hike in the Blue Ridge Mountains. The air is crisp and cool, making for an invigorating time strolling along one of our many area trails. With the leaves down and out of the way, you'll savor views that just a few weeks ago were missed by hikers along those very same trails due to the heavy foliage and underbrush.
Wildlife are much easier to find, as deer, bear, squirrels, and more are unable to sneak quietly along the forest floor that is littered with crunchy brown leaves. Just this morning I walked from the office up to the workshop, and I could hear the deer browsing on the hill behind the shop. Two weeks ago, I would have neither heard nor seen them without diligently searching.
Holidays in November and December!
Although for many, the Thanksgiving and Christmas holidays bring visions of returning home, others think of it as a time to get away. Whether meeting family from other places, or simply escaping from the never-ending chores at home, we always enjoy welcoming guests to Cabin Creekwood for the holidays.
Many of our cabins are spoken for a year in advance by regularly returning guests, but others fill in a little closer to the time. This year, if a getaway to Cabin Creekwood for the holidays appeals to you, we currently have three cabins open for Thanksgiving, and a number of options for the Christmas and New Year's break.
Skiing, Snowboarding, and Tubing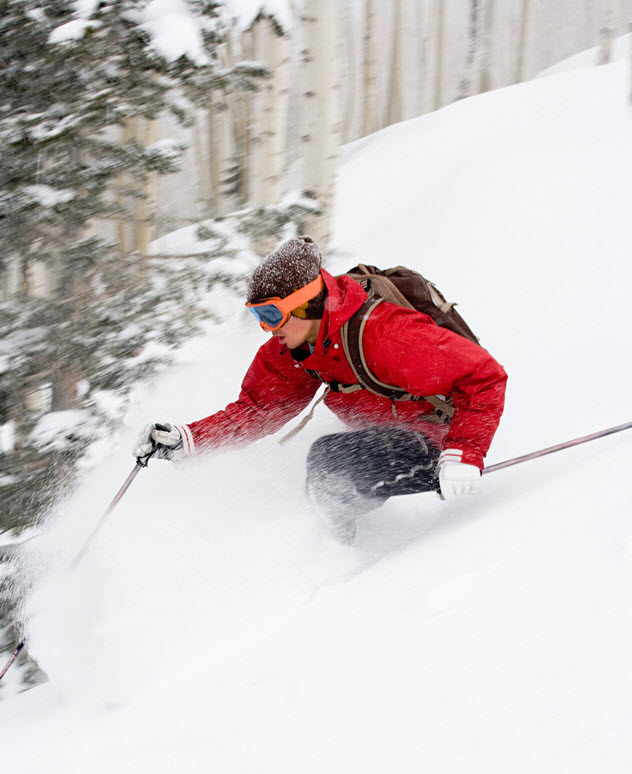 Winter is right around the corner, and the winter sports options at Wintergreen Resort are favorites among our guests. Perhaps you enjoy skiing, but the kids are fond of their snowboards. Both are available at Wintergreen Resort, just three miles from Cabin Creekwood.
For those who aren't into strapping boards on their feet and zigzagging down a hill, perhaps the tubing slopes will provide an exhilarating alternative. The Plunge tubing park lets you zip down the hill at speeds up to 30mph, and then takes you effortlessly right back to the top for another rush.
So as you can see, even though the fall foliage season is coming to an end, there's never an end of things to see and do at Cabin Creekwood.