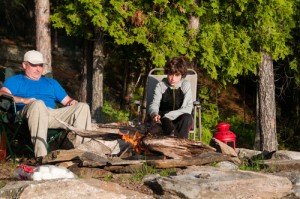 A friend once said that a family vacation isn't a holiday, it's just a trip with the kids.
Today's modern family is perpetually stressed out from long work hours, busy after school schedules and endless demands on time.
While it's nice to think of a family vacation as lazy days lounging by the pool, leisurely walks along the beach and spontaneous activities, the reality is that family trips can be sometimes be stressful. Let's face it, you still have to cook and clean and make plans with military-like precision to ensure everyone is entertained. But new survey shows that traveling with kids is actually good for the family dynamic.
According to a Disney poll conducted by Kelton research firm, which asked 1,000 parents with kids age 5-17, 97 percent of parents say that their children have gotten to know new things about them while taking family trips. The survey also found that the whole family tends to be more excited, silly and affectionate while on vacation.
Another benefit of taking a family trip? Parents reported eating nearly double the number of meals with their children while on vacation.
"Parents are desperate for more quality time," Amy McCready, the founder of Positive Parenting Solutions told FoxNews.com. "We're really feeling kind of disconnected from our kids."
The survey also showed that 71 percent of parents would love more time with their kids, and almost all respondents (96 percent) would give up at least one thing, such as sleeping, a hobby, even coffee, for a year to spend just one extra hour with their children.
McCready says if you can't get away for a couple days, make an effort to incorporate bonding time into your routine.
"On a daily basis, spend some time with your kids, just one-on-one, doing something that they like to do. That really creates those emotional connections," McCready says.
The above article text appeared on FoxNews.com in the article entitled, "Survey finds vacations help families bond", first published Published February 21, 2013. Link: http://www.foxnews.com/travel/2013/02/21/survey-finds-vacations-help-families-bond.html
What sorts of family bonding activities can you enjoy at Cabin Creekwood, Sherando Lake resort in the Shenandoah Valley of Virginia? Well, a better question might be, what can't you find to do at Cabin Creekwood? You won't find row after row of cabins, that all look the same with the same space separating them. You will not find big box retailers within a 5 minute drive and you will not find mega development that has come to be synonymous with the suburbs and major metro areas. You'll enjoy the sights and sounds of nature and plenty of space to roam and explore. Hiking, mountain biking, fishing, canoeing, and swimming are hugely popular activities in the summer. Sitting around the fire in the evenings is one of our favorite past times. Click and book Cabins for Rent in VA at Cabin Creekwood at Sherando Lake.