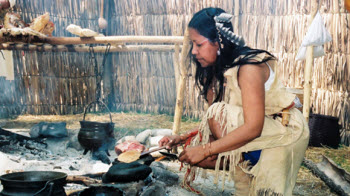 If you've ever made dry beans before, you know how much time and effort the modern day 'canned foods' saves us. Oftentimes we take for granted how quickly we can prepare our food, thinking on days like Thanksgiving (when we have to wake up early to get the Turkey in, mash all those potatoes, and unstring all those beans) that even ovens don't offer enough help.
After watching this demonstration put on at the Natural Bridge, you'll put more thanks into your Thanksgiving! In the 18th century, the Indians lived along this land and made their feasts using only the resources at hand. Not only do visitors watch this feast being cooked up in traditional methods, they also enjoy the sights of authentic costumes and a rush of fascinating historical facts revolving around the original hunters, fishers, and farmers.
What is the Natural Bridge Indian Village?
Location, location, location—that's what they say about buying a house. Well same goes for planning your trips. Don't just see a reenactment at any location; see one at a prime location. This bridge was long ago discovered by a group of Indians who were escaping a fierce enemy. Upon discovery, they called it, "The Bridge of God." 300 years ago, Indians were still living and thriving off of this very same piece of land.
Indian Heritage Month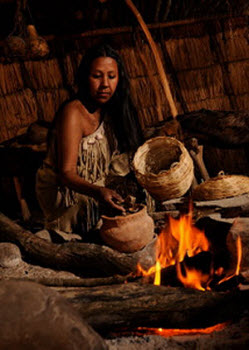 November is Indian Heritage Month and for good reason. While the Indians were not celebrating Thanksgiving as we know it 300 years ago, they were celebrating another holiday of thanks in November. Tribes would have large feasts at this time because the pending winter months would soon limit their food supply. The special way the Monacan tribe gives thanks at this ceremony is highlighted at the demonstration.
Many question the foods being cooked, are they the same staple pieces we associate with Thanksgiving? The harvest festival feast includes turkey, corn, mixed berries, corn bread, and trout.
More than Just Food
Along with cooking demonstrations, enjoy watching native-dressed individuals weave baskets, make tools, and hand-make other common crafts special to the tribe and time period. Beware; you might leave wishing everything were hand-made again!
The only bummer? The feast is not for the consumption of visitors, although the sights and smells will definitely get you hungry enough to start cooking a feast of your own. If you are looking for food, check back on Thanksgiving Day at the Natural Bridge Hotel where a traditional Thanksgiving meal is held buffet style, eat as much as you can and don't worry about doing those dishes!
This event will be held Tuesday November 20, 2012- Sunday November 25, 2012.
For more information about the Natural Bridge Society and the Fall Harvest Festival, visit here.