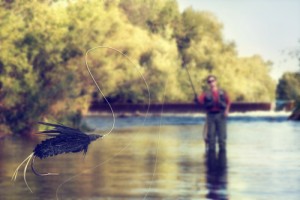 Cabin Creekwood is blessed to be located in one of the best kept secret fly fishing regions in the country. Anglers have been coming to our area of Virginia for fly fishing trips for generations and annually, festivals were celebrated along our streams banks that paid tribute to fly fishing in our state. The Virginia Fly Fishing Festival had to move this year, to a larger space, but Waynesboro, Lake Sherando and areas within the Geroge Washington and Jefferson National Forests close in to us, continue to be a haven for anglers of all levels.
You will not find too many areas in the country where you will be smack dab in the middle of nearly 50 fishing streams, creeks and rivers. That's right! You read that right. Cabin Creekwood/Lyndhurst VA is located (within 10 miles) from nearly 50 fishing locales. You'll have a chance to catch, Bream, Bluegill,  Brown Trout,  Largemouth Bass,  Rainbow Trout,  Smallmouth Bass. Cabin Creekwood offers Virginia Cabin Rentals for fishing getaways. We have 1, 2 and 3 bedroom cabin rentals. Right now, many cabins have open dates during the month of March. With Spring right around the corner, its a great time to book fishing weekend getaways.
Here is a quick list of fishing streams generated by HookandBullet.com based on Lyndhurst VA's zip code.
Andersons Creek 7.4 miles
Back Creek 0.9 miles
Baker Springs Basin 3.5 miles
Baldwin Dam 5.5 miles
Baldwin Pond 5.5 miles
Barterbrook Branch 6.4 miles
Canada Run 2.7 miles
Coles Run 3.3 miles
Coles Run Dam 5.9 miles
Coles Run Reservoir 5.9 miles
Falling Rock Creek 5.9 miles
Falling Rocks Lake 4.6 miles
Folly Mills Creek 6.4 miles
Goodwin Creek 7.2 miles
Goose Creek 6.8 miles
Hayes Branch 5.6 miles
High Country Outfitters 3.7 miles
Inch Branch 0.8 miles
Johns Run 5.6 miles
Kennedy Creek 3.1 miles
Lake Quarles 7.3 miles
Lake Wilda 3.5 miles
Laurel Springs Branch 4.5 miles
Loves Run 7.5 miles
Maple Flat Ponds 4.5 miles
Mill Creek 5.7 miles
Mills Creek 3.4 miles
Mountain Lake 4.9 miles
North Fork Back Creek 7.2 miles
Orebank Creek 4.3 miles
Rankin Run 4.4 miles
Rockfish Run 4.2 miles
Rodes Creek 5.7 miles
Sawmill Run 6.8 miles
Sherando Dam 7.8 miles
Sherando Lake 7.8 miles
Sherando Lake Group Camp Campground 7.1 miles
Sherando Lake Group Picnic Shelter Campground7.1 miles
Sherando Lake Recreation Area Family Camping Campground 8.4 miles
Smith Dam 5.9 miles
Smith Lake 5.9 miles
South Fork Back Creek 7.2 miles
Steele Run 5.3 miles
Stony Run 5.8 miles
Toms Branch 4.5 miles
Tunnel Branch 5.6 miles
Wilda Lake 8.3 miles
Williams Branch 8.2 miles
Williams Creek 7.4 miles