If you are lucky enough to visit Lyndhurst, Virginia on the weekend of October 6th, you are in for a treat! Although there is never a shortage of family-fun activities near Cabin Creekwood, this weekend in particular offers an overabundance of special events. Here are 3 activities we highly recommend!
The 37th Annual Apple Days Craft Show
Saturday October 6: 9am – 5pm
Sunday October 7: 12pm – 5pm
Join the festivities over at Willow Oak Plaza and find all your special souvenirs. With a wide variety of vendors in attendance, you'll find a unique selection of candles, art, jewelry, and even handmade furniture at this year's Apple Days Craft Show. Often referred to as the unofficial kickoff to the holiday season, exclusive Christmas decorations will be offered in sparkly green and red abundance.
Come ready to indulge in everything apples, from apple cider to apple dumplings and even apple butter! Of course, it wouldn't be a party without the apple pie! With 4,000- 6,000 people expected to be in attendance, make sure to come early because some of these delectable treats are predicted to sell out quickly.
For more details on the Apple Days Craft Show, click here.
The Oldest Annual British Car Show
October 5-7, 2012
When you're ready to leave the craft fair, hop on the shuttle bus waiting on site and be whisked off to your next destination! Shuttles will be running back and forth all day from the craft fair to the annual British Car show, held over at Ridgeview Park.
The Shenandoah Valley British Car Club hosts this car show in dedication of British marques cars. In fact, over 200 are expected to be on display—all in a variety of makes, models, and colors. People travel from all over the country to show-off their own marques– some in great condition, others unable to run. This car show doesn't discriminate; all British marques are welcome!
Not only will visitors enjoy the sights of these fabulous automobiles, true car enthusiasts will love the rare British car parts and memorabilia being offered for sale.
The best part? You are having fun and doing some good! The Car Club encourages guests to bring along can food donations. Of course, if on vacation, canned foods aren't something you typically have on hand. No need to worry, the majority of generated funds go directly to the Food Bank anyways.
Save money and become eligible for the door prizes by pre-registering online!
October Gem Show
Saturday, Oct, 6: 10 am – 6pm
Sunday, Oct. 7: 11am – 5pm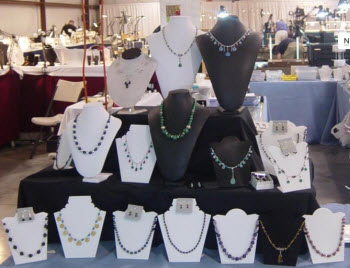 If you didn't get enough shopping done at the Apple Days Craft Fair, this Gem Show should be your next destination. The Shenandoah Valley Gem and Mineral Society is hosting this event, offering everything from sterling silver to precious gemstones.
Vendors from all over the country will be there, offering you their most precious goods.
For jewelry enthusiasts, rows and rows of pendants, necklaces, rings, and so much more will have your heart racing with excitement as you select pieces that represent you perfectly. Unique, one of a kind, and most-often handmade, these artists are selling pieces you won't be able to duplicate at your local mall.
Find irreplaceable gifts for you and your family at this Gem and Mineral Show, while at the same time learning a great deal about gorgeous rocks!