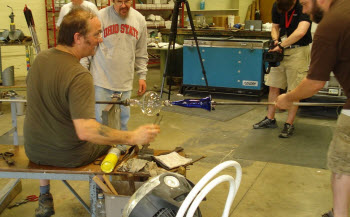 On April 27th and 28th, 2013, the Virginia Hot Glass Festival will be hosted at Sunspots Studios in Staunton, Virginia. This two day, family-friendly event will leave you amazed at the various sights and creations you'll see. Festival hours are 9:00 am to 6:00 pm on April 27th, 10:00 am to 5:00 pm on April 28th, and best of all, admission is free. For the physically impaired there is also wheelchair ramp access and the entire festival is located indoors, making things very comfortable for the young and old.
Special Activities – Interactive and Fun
Each day at the festival there will be special activities that will create unique memories, making for a fun event. There will be a kid's challenge, where kids can submit drawings of pieces they want created and the glass artists will create a work from select drawings. There will also be a Blow Your Own Ornament segment where several visitors will be picked to help the artists blow an ornament out of hot glass. Last, Josh Ries, from Art of Fire Contemporary Glass Studio, will make a fire-breathing dragon that will leave you amazed.
More than just glass – Flames and bead making
In addition to ornaments and large glass objects, there will be live demonstrations of glass blowing, flame working, and bead making. The Virginia Stone Carver's Guild will also be present with an exhibit and demonstration set up adjacent to the glass festival. Pictures of the stone carvers in action are available on their website and also through the Virginia Hot Glass Festival's website. Their work is simply amazing; the ability to carve, shape, and light the stones the way they do is simply incredible.
Artist lineup – Talented hot glass artists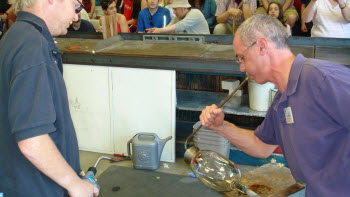 There will be a number of hot glass artists at the festival. Many of the artists have their own websites that show their own work so you should definitely check it out. The lineup of glass blowers include: Art of Fire artists Josh Ries, Todd Hansen, Dave Zimmerman, and Bruce Ferguson. Other artists include Nate Avery, Will Beights, Seth Hendrick, Neil Duman, Charles Hall of Frozen Motion Glass, Linwood Hoffman of Dark Water Jewelry, Dan Scogna, Minh Martin of Romeo Glass, Phillip Nolley, Doug Sheridan and many others. Additionally, there will also be a number of bead and jewelry flame-worked glass artists, including: Elizabeth England Crockett of Dragonflame Beadworks, Brian Hagen of Glass Curtain, Lisa Mosser, Amy Jean Nichols of Rigadoon Glass, Pam Pittinger, James Spaloss, and Debby Weaver. Once again, check out the festival's website for links to these artist's work!
Unique opportunity – Things to see in Staunton
This hot glass festival is the only art show in Virginia devoted to the art of hot glass. You will have the opportunity to interact with and purchase glass art directly from the artists at this exhibition. Conveniently, the festival is only five minutes from Interstate-81 and Interstate-64, in the historic downtown section of Staunton. While in town, and if you have the time, there are many other things to see and do minutes from the festival, including nine fine art galleries, the Blackfriars Playhouse, theaters, museums, and the historic Red Brick District. It's pretty clear to see that you could easily spend a full day to a week just exploring Staunton and all the activities the town has going on.
Festival website – More information
The Sunspots Studio and combined festival website is located here: www.sunspots.com/VA_Hot_Glass_Fest.htm
Also, if you want to see some amazing pictures of these incredible glass works of art, here is a link to some of their previous festival work. I still can't believe they are able to make these creations all out of glass. Be sure to get out and take advantage of the short drive, free admission, and awesome spectacle that is to be the Virginia Hot Glass Festival.