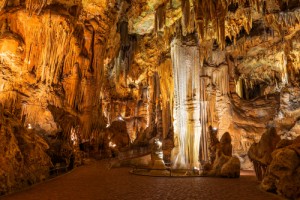 Located in the nearby town of Grottoes, VA are Virginia's Grand Caverns. These caverns in Virginia are a short distance away from our Virginia Mountain Cabin Rentals at Sherando Lake. Take a drive to Grottoes and get a close up view of what the inside of a mountain actually looks like! You'll see examples of stalactities, stalagmites, columns and flowstone as well as some other unique features.
Some of the formations are called interesting names and the stories behind them are just as cool. Tour through the Persian Palace, Chapel, Grand Ballroom, Cathedral Hall, Jefferson's Hall, Jackson's Hall, the Bridal Chamber and Lily Room, and don't stay too long in Dante's Inferno.
Caving is always a hit for the entire family and these caverns in Virginia offer something unique because they contain some great examples of what is called 'vertical bedding'. Layers of limestone layers formed vertically here, rather than horizontally like other caves of the Shenandoah Valley. This is due to the way that the tectonic forces turned on end.
Also, Grand Caverns VA feature cave shield formations and it has the most out of any cave in the eastern portion of the U.S. Scientists are not quite sure how these geological shields are formed. One theory suggests that it is due to water being force out of a crack in the cave wall and over time the calcite cystallizes and a plate begins to grow. What you are left with looks very similar to a wing of a birded animal hanging from the caves walls. It's interesting to see up close.
Visit these caverns in Virginia on the hottest day of your trip and you'll enjoy the 54 degree temperatures inside the caverns! Tours last about 70 minutes and are lead by professional guides at the attraction. They feature a military/public servant discount as well as senior discounts and special AAA pricing. It's one of the most affordable attractions in the area and it's an educational tour! Children under 5 are FREE!
For information on booking our cabins for rent in VA, click here and view the 9 different cabins that are located at our small resort. If you are visiting in the summer months, you'll enjoy our Blue Ridge Mountain Cabin Rentals with Pool.