Just a short distance up Skyline Drive is a hiking trail that goes to three separate waterfalls, each a worthy destination by itself. The 6.5 mile loop begins at the Browns Gap parking area near milepost 83. The trailhead is just across the road, and follows the Browns Gap fire road for the first stretch, probably about a mile and a half. On the way down the fire road, keep an eye out for a Confederate Soldier headstone on the left, about 4/10 of a mile from the road. He was stricken with malaria while he and his troops were passing through the gap on the toll road that used to run through there. We go to church with the great-great-great granddaughter of the woman who nursed him there.
Just across Doyles River, take a right turn on the Doyles River Trail. The Upper Doyles River Falls are the first you come to, on the left side of the trail. This fall is 28' high. Not much further is the Lower Doyle River Falls at 63'. The trail continues along the Doyles River for quite a distance, then leaves the river and follows Jones Run to the right. A quarter mile or so up Jones Run, you will come to the Jones Run Falls on the right. This fall is 42', and is perhaps the most beautiful of the three waterfalls. Continuing past the fall, the trail tees into the Appalachian Trail. Take a right on the trail, and it will bring you right back to the Browns Gap parking area.
Overall, this six and a half mile loop trail is fairly easy, although there are a couple stretches that are more strenuous. Deb and I hiked it in November. It took about 3 ½ hours, and we are looking forward to the opportunity to see it in a different season. Here are some of the pictures from that outing.
Upper Doyles River Falls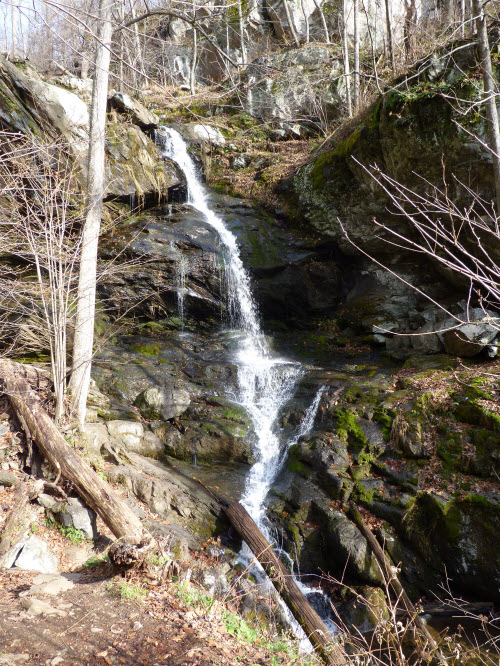 Lower Doyles River Falls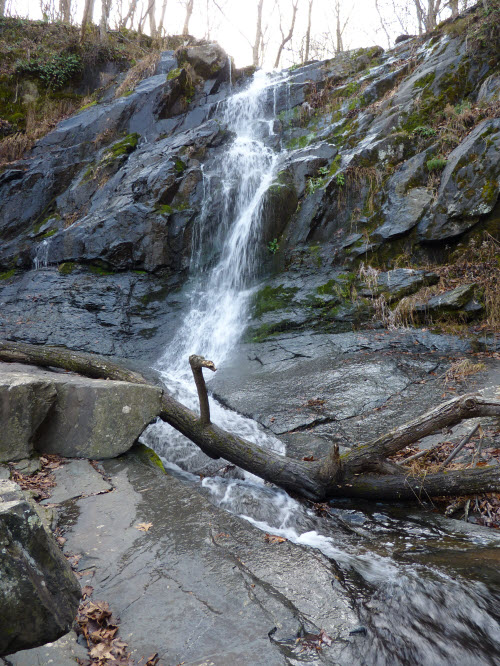 Jones Run Falls